What does our obedience cost us? What must we give up to obtain more of our Beloved? We must decrease so that He may increase in every area of our lives. All things we count as loss, but for the surpassing worth of knowing Christ Jesus.
     My love, the best you could pursue and orchestrate to bring forth is as rubble compared to the goodness I've prepared for you. You offer the most tender and deep rooted desire you've wrestled with all of your life to Me, finally and completely. You are willing to go with desires unmet in the physical, so that you may obtain Me. Not to wait for anything in your circumstance to change, but to obtain Me. My most tender beloved, this honors Me greatly. I love you.

     How much in giftings I will pour out on you. What little you give up to obtain so much more of Me. You will be filled with the wisdom and knowledge of Christ, you I anoint to operate in My giftings, for you bow yourself down in the lowest of estates. What a beautiful vessel I will make you, not for the attention of others but for the love you have for Me and to display the care and tenderness I Am toward you.

     You do not yet fully understand or could you comprehend the full meaning of what I bestow, but My love, know that it is big. It is abundant, it is far reaching, it will take you beyond your imagination to the people I will pour on through you, your reach and influence will be to all nations, not just on a small scale but on a larger scale than you can now imagine. You give up, finally to Me, that which you hold most dear, most desired that you might obtain Me. My love, I know nothing do you hold back from Me. All of the other hindrances you wrestle with will quickly lose their hold, for in My presence no tie can remain. You will walk about in freedom effortlessly.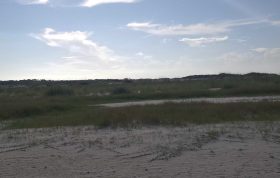 "

And every one that hath forsaken houses, or brethren, or sisters, or father, or mother, or wife, or children, or lands, for my name's sake, shall receive an hundredfold, and shall inherit everlasting life. But many that are first shall be last; and the last shall be first.

"  Matthew 19:29-30
"Jesus answered and said unto her, Whosoever drinketh of this water shall thirst again: but whosoever drinketh of the water that I shall give him shall never thirst; but the water that I shall give him shall be in him a well of water springing up into everlasting life."  John 14:13-14
"

But whatever were gains to me I now consider loss for the sake of Christ.

 

What is more, I consider everything a loss because of the surpassing worth of knowing Christ Jesus my Lord, for whose sake I have lost all things. I consider them garbage, that I may gain Christ

 

and be found in him, not having a righteousness of my own that comes from the law, but that which is through faith in Christ—the righteousness that comes from God on the basis of faith.

"  Philippians 3:7-9