From the foundations of the world I've known you. I've walked with you in this path all of your days. I even knew you in your mother's womb. My love, how precious you are to me. I know your whole story. I have been with you in the heartache, joys, darkness, and triumphs. I gave My all so you could be with Me for eternity. This  life is just our first journey, for you will be with Me always.

     I the one who made you, I satisfy you, I know you. Hide no place from Me, for I know it already. Come and speak to Me about your wonderings, open your heart to Me completely, not to just the places you call righteous, open all to Me. Let Me change your heart, for I do not desire to lead you into destruction but into life. Do not think My plans for you are for evil, for they are for good, to build you up and make you strong, new, and whole. Those tenderest of places inside, those areas you've even forgotten, pushed down, and now call to remembrance. My love, I know. I deal tenderly with you.

     Be very still and wait in My presence and see what I will say to thee on these matters. Let Me lighten your load. I fill up what was lost. Let My presence overtake you and bring you into new ways of walking in Me, in loving, in enjoying each day with Me. Dwell in My light, walk not in darkness any longer. This is just the beginning, I have much to show you, much to transform in you, much to reveal about Myself. You do not have answers, so stand in unknowing, but know Me. Know that I have your way marked out. Trust Me, follow Me, keep all laid bare before Me. Open your heart and mind to hear what I will say, for I fill even the deepest longings. Wait before Me.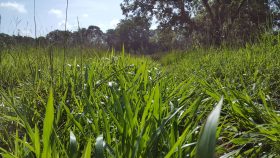 "

Praise be to the God and Father of our Lord Jesus Christ, who has blessed us in the heavenly realms with every spiritual blessing in Christ.

 

For he chose us in him before the creation of the world to be holy and blameless in his sight. In love

 

he predestined us for adoption to sonship through Jesus Christ, in accordance with his pleasure and will –

to the praise of his glorious grace, which he has freely given us in the One he loves.

 

In him we have redemption through his blood, the forgiveness of sins, in accordance with the riches of God's grace

 

that he lavished on us. With all wisdom and understanding,

 

he made known to us the mystery of his will according to his good pleasure, which he purposed in Christ,

 

to be put into effect when the times reach their fulfillment – to bring unity to all things in heaven and on earth under Christ.

"   Ephesians 1:3-10
"

If I say, 'Surely the darkness will hide me

and the light become night around me,'

even the darkness will not be dark to you;

the night will shine like the day,

for darkness is as light to you.

For you created my inmost being;

you knit me together in my mother's womb.

I praise you because I am fearfully and wonderfully made;

your works are wonderful,

I know that full well.

"  Psalm 139:11-14