Do you think that I don't see the smallest effort in surrender to Me, to release that which I've placed My finger on. My love, I ask for this letting go for your good. Do I not have good plans for you. To bring you where I need you to go and accomplish what I need you to do, you must surrender your all to Me.

     How lovely is this dwelling place of sweet surrender. Yes, to your flesh this will seem a crushing blow, but will give your life and My peace that passes all understanding. Man's reasoning cannot comprehend the glories that await those who surrender to Me both in this life in My sweet fellowship, giftings, full outpouring, and in the eternal life. Even upon your decision to release to Me, you will feel a lightening of the load, a deep exhale from your spirit, an emptiness filled. Man's ways say to lay hold and fill with all of your might your needs and wants, but I say surrender to Me and let Me fill you as I desire. It will be beyond what you can imagine, it will be more meet and fit and the results will be blessing for all involved.

     How delighted I Am that you seek Me, my love. That you turn your heart to Me and even look for Me in the everyday.  As you look at the stars and all of creation itself you see My finger prints in the details. My love, I desire to fingerprint your life, to evidence My handiwork in you, yes even you. Surrender the details to Me, get used to hearing Me and walking as I direct and prompt you, and your attention will grow more focused on My voice. You will come to a place where you look to the right or left and hear a voice behind you saying, "This is the way, walk in it."  You will know it's Me. My love, I have more to offer than what you could ever give up. Give all to gain Me.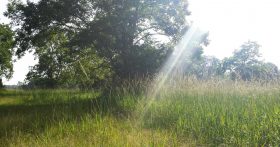 "You are my portion,

Lord

;

I have promised to obey your words.

I have sought your face with all my heart;

be gracious to me according to your promise.

I have considered my ways

and have turned my steps to your statutes.

I will hasten and not delay

to obey your commands.

I will hasten and not delay to obey your commands."  Psalm 119:57-60
"Yet the

Lord

longs to be gracious to you;

therefore he will rise up to show you compassion.

For the

Lord

is a God of justice.

Blessed are all who wait for him!

People of Zion, who live in Jerusalem, you will weep no more. How gracious he will be when you cry for help! As soon as he hears, he will answer you. 

Although the Lord gives you the bread of adversity and the water of affliction, your teachers will be hidden no more; with your own eyes you will see them.

 

Whether you turn to the right or to the left, your ears will hear a voice behind you, saying, 'This is the way; walk in it.'"

  Isaiah 30:18-21