When we do not see the power of God manifested in our lives, do not walk in the unhindered flow of the Holy Spirit with all peace, joy, contentment, or do not partake of the boundless riches of Christ, then what is the blockage? The first, yet hard question we must ask ourselves is, "What do I still hold back from my Lord?" Are we focused on ourselves and what we want to accomplish in life? Do we keep small or large parts of our selves from the Almighty, even though we may appear to others to follow Him wholeheartedly? To be a useful vessel for the Holy Spirit to fully flow through, pour out on others to meet spiritual/physical/emotional needs, and display the light of God in this dark world, we must be emptied of our own desires, predispositions, pride, impure thought life, and ungodly habits and choices.
Let us learn from a simple flower in the field of this lesson surrender. Its roots are grounded in the earth, as we are to be rooted in Jesus. It's leaves and flowers reach up to the sun in reckless abandon, unconcerned with what may befall it or even how long it has to grow and bloom. Its only desire, as ours should be, is to bask in the light of the son and give forth its unique fragrance in the time it has been allotted to give glory to God and fulfill its purpose while planted on earth.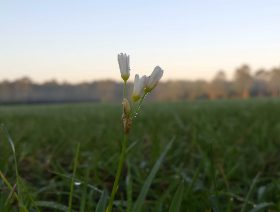 In Andrew Murray's book Absolute Surrender originally published in 1897, he straightforwardly reveals the level of surrender followers of Christ should have in every area of our lives:
Give up yourselves absolutely to the will of God. You know something of that will; not enough, far from all. But say absolutely to the Lord God: "By Thy grace I desire to do Thy will in everything, every moment of every day." Say: "Lord God, not a word upon my tongue but for Thy glory, not a movement of my temper but for Thy glory, not an affection of love or hate in my heart but for Thy glory, and according to Thy Blessed will."
Yes, the living God wants to work in His children in a way that we cannot understand, but that God's Word has revealed, and He wants to work in us every moment of the day. God is willing to maintain our life. Only let our absolute surrender be one of simple, childlike, and unbounded trust.
We may wrestle with God as He reveals layer upon layer of our unsurrendered selves. This is only our flesh's struggle to die to self-will. Let us lay bare the deep recesses of our hearts, minds, and bodies before the Holy Spirit and cry out, "Lord, change My heart, change My will, have every part of me."  As we wait before the Lord and focus our attentions upon Him even in the midst of our struggles to let go, it is He who enables us to walk in full surrender. It is God who works in us to will and do according to His good pleasure. It may take hours, days, weeks, months, even years of crying out to God to let go of this or that which seems so dear to our mortal flesh, so be not discouraged. Weeping may remain for a night, but joy comes in the morning. God will not give up on us, for He desires that we be free to abide in Him without any hindrance and fully taste and see that He is good. Once each part of our selves is at last surrendered as a fragrant offering unto Him, what sweet peace and abundant joy will flood our souls. What contentment can be found in the surrendered life. We will look back and marvel at how long we clung to the empty dreams of our own self-will when we behold what God really created us to walk in on our journey with Him.
"Then he said to them all: 'Whoever wants to be my disciple must deny themselves and take up their cross daily and follow me.'"  Luke 9:23

"Now if I do what I do not want to do, it is no longer I who do it, but it is sin living in me that does it.

So I find this law at work: Although I want to do good, evil is right there with me.

 

For in my inner being I delight in God's law;

 

but I see another law at work in me, waging war against the law of my mind and making me a prisoner of the law of sin at work within me.

 

What a wretched man I am! Who will rescue me from this body that is subject to death?

 

Thanks be to God, who delivers me through Jesus Christ our Lord!

So then, I myself in my mind am a slave to God's law, but in my sinful nature a slave to the law of sin.

"  Romans 7:20-25
"But as it is written, 'Eye hath not seen, nor ear heard, neither have entered into the heart of man, the things which God hath prepared for them that love him.' But God hath revealed them unto us by his Spirit: for the Spirit searcheth all things, yea, the deep things of God. For what man knoweth the things of a man, save the spirit of man which is in him? even so the things of God knoweth no man, but the Spirit of God. Now we have received, not the spirit of the world, but the spirit which is of God; that we might know the things that are freely given to us of God. Which things also we speak, not in the words which man's wisdom teacheth, but which the Holy Ghost teacheth; comparing spiritual things with spiritual. But the natural man receiveth not the things of the Spirit of God: for they are foolishness unto him: neither can he know them, because they are spiritually discerned. But he that is spiritual judgeth all things, yet he himself is judged of no man. For who hath known the mind of the Lord, that he may instruct him? but we have the mind of Christ."

  I Corinthians 2:9-16
"F

or it is God who works in you to will and to act in order to fulfill his good purpose. Do everything without grumbling or arguing,

 

so that you may become blameless and pure, children of God without fault in a warped and crooked generation. Then you will shine among them like stars in the sky

as you hold firmly to the word of life.

"  Philippians 2:13-16