I know the plans I have for you. My love, I see the details, I see the blockages. My love, I see the way that you take. Not one word I've spoken will return to Me void, for I will raise one up to fulfill it. Choose to follow Me and see what I will bring forth in your life. Learn the hard and costly lessons of what you have turned from that were My will and way for you and come on along with Me. Beloved, offer your heart cries unto Me, for I see and know. I knew even back when you made choices to not follow Me wholeheartedly what you would forfeit. Forfeit not one more gift from Me, one more way I desire to make for you.

     Open your mind and let Me expand it. Look unto Me for what a want to make for you, what a beautiful height I desire to bring you to and a fragrant creation I will make of you if you will just follow Me with all of your heart, soul, strength, and mind. Miss not one more blessing, a well fit and meet blessing, I created to pour out upon you. Lift your head, for you think you've gone as far as I can bring you. You wonder to yourself, "How can there be anything better, for I have come so far from where I was." Oh let Me awe you, open wide your mouth and I will fill it.

      Extravagant blessing I pour upon you, for even in yourself you have been willing to pour out upon others in this way. My gifts and calling are irrevocable. Live not in regret but in fervent hope, that I will restore even that which was lost. How can I? How can I make your heart whole again? Oh My love, this is what I do. Am I not Jehovah Jireh (Provider), Jehovah Rophe (Healer), Jehovah Nissi (Banner). My banner over you is love. Come into this intimate place where I hold nothing back and you are laid bare before Me, all of your desires, longings, regrets, hopes. Oh let Me perfect My work in you.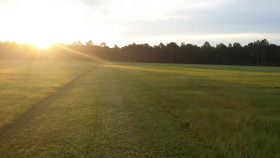 "For I know the plans I have for you," declares the

Lord

, "plans to prosper you and not to harm you, plans to give you hope and a future."  Jeremiah 29:11