Observe how the sun shines upon the trees lifting their limbs to bask in its light. They are unmoved, but positioned to receive and grow where they are planted. When night comes, their leaves stay poised waiting for the return of light. Be so confident in My light shining upon you, making your path straight, that you are unmoved in the darkness.

     When words cease and you have nothing of comfort to say to yourself or others, when logic escapes you, wait upon My light to warm your spirit and bring you forth form the cold darkness. Be settled in Me, planted to grow as I reveal more and more of My way, My works, Myself. Seek Me and continue to seek and wait upon Me, for I will surely be found by you.

     When you think there is nothing more to learn or say, wait upon Me, for I will reveal. New depths of learning and understanding. When you think there is no comfort, wait upon Me to fill you with such an assurance, even in the midst of uncertainty.

     Natural man does not understand My ways, My filling. Redeemed man is open to it, but so many do not seek Me or wait for Me to reveal. Many will say to you, "What wait you for?" You will say to yourself at times, "What wait I for?" "Upon the Lord," is your answer.

     In seeking Me there is no disappointment but a filling beyond what you thought you needed or knew. Let your leaves bring forth their fruit as I shine upon you and glorify Me in the waiting and in the casting all upon Me and depending upon My light to shine.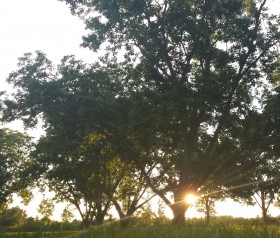 "Blessed is the one who does not walk in step with the wicked or stand in the way that sinners take or sit in the company of mockers, but whose delight is in the law of the LORD, and who meditates on his law day and night. That person is like a tree planted by streams of water, which yields its fruit in season and whose leaf does not wither – whatever they do prospers."  Psalm 1:1-3
"Even youths grow tired and weary, and young men stumble and fall; but those who hope in the LORD will renew their strength. They will soar on wings like eagles; they will run and not grow weary, they will walk and not be faint."  Isaiah 40:30-31
"But without faith it is impossible to please him: for he that cometh to God must believe that he is, and that he is a rewarder of them that diligently seek him."  Hebrews 11:6