Our beliefs affect our confidence and guide our actions. If we know the truth of something, then we can rightly respond in all confidence. This principle came to light when I was hauling a pull-type trailer on the back of a truck and I had no confidence in the tow hitch. I had never hooked up a trailer and I didn't know if it would come off. As I drove it on the road, my actions reflected a lack of confidence for I did not trust the thing. I made several stops on the way to the destination to make sure it was still hooked up and not coming off. After the third stop, I finally had someone examine it who was an expert on hitches and trailers. This person revealed that the hitch was strong, the trailer was hooked up correctly, and that it could carry even more weight than I was pulling. This rightly adjusted my belief, thus I had more confidence in the hitch.
This knowledge affected my actions, for now I drove the speed limit instead of a slow 20 mph. I used the main roads with more traffic instead of slinking about the back roads to avoid other vehicles. I was not alarmed each time I hit a bump and felt the vehicle and trailer bounce. I noticed that I actually began to enjoy the ride rather than tightly grasping the steering wheel while imagining the worst.
The Lord taught me a spiritual truth in this everyday situation. Our actions are affected by our beliefs – whether we believe the truth or lies. When we are filled with the knowledge of Christ more and more through meditating on His word, spending time with Him in worship and praise, and just being aware of Him, then our confidence will grow. He is the expert, the one we can have confidence in as we trust His word and strength. As we follow Him, we can be at ease and enjoy the ride when we know He is guiding us and is responsible for us. The outcome is His, ours is only to trust and obey.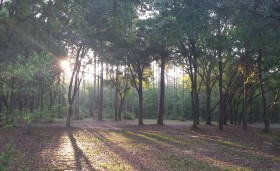 "To the Jews who had believed him, Jesus said, 'If you hold to my teaching, you are really my disciples. Then you will know the truth, and the truth will set you free.'"  John 8:31-32
"So do not throw away your confidence; it will be richly rewarded. You need to persevere so that when you have done the will of God, you will receive what he has promised. For, 'In just a little while, he who is coming will come and will not delay.' And, 'But my righteous one will live by faith. And I take no pleasure in the one who shrinks back.' But we do not belong to those who shrink back and are destroyed, but to those who have faith and are saved."  Hebrews 10:35-39
Hymn: Trust and Obey
By John H. Sammis -1887
When we walk with the Lord in the light of His Word,
What a glory He sheds on our way!
While we do His good will, He abides with us still,
And with all who will trust and obey.
Not a shadow can rise, not a cloud in the skies,
But His smile quickly drives it away;
Not a doubt or a fear, not a sigh or a tear,
Can abide while we trust and obey.
Not a burden we bear, not a sorrow we share,
But our toil He doth richly repay;
Not a grief or a loss, not a frown or a cross,
But is blessed if we trust and obey.
But we never can prove the delights of His love
Until all on the altar we lay;
For the favor He shows, for the joy He bestows,
Are for them who will trust and obey.
Then in fellowship sweet we will sit at His feet,
Or we'll walk by His side in the way;
What He says we will do, where He sends we will go;
Never fear, only trust and obey.
Refrain:
Trust and obey, for there's no other way
To be happy in Jesus, but to trust and obey.