When we are empty in ourselves and do not know what the Lord is doing with us or what He is making us into, be still and let Him empty us of ourselves so that we may decrease and He may increase. Wait before Him with all hope, faith, and a joyful expectancy, for He is faithful. When the season seems dry and hot with no refreshment in sight, cry out to God and wait for Him. Perhaps here we are being pruned to become more fruitful and our roots forced to go deeper in our Beloved to get our spiritual nourishment, purpose for the present, vision for the future from Him alone.
A.W. Tozer, a pastor, preacher, and author in the early-mid 1900's shares a timeless truth, "The reason why many are still troubled, still seeking, still making little forward progress is because they haven't yet come to the end of themselves. We're still trying to give orders, and interfering with God's work within us." How true this place of continual refinement before our Lord. He loves us too much to leave us as we are and will bring good out of every situation for those who love Him to make purposeful vessels that are formed more and more into His image.Our lives are in His hands so let us offer up ourselves – every part – and say, "Your will be done, make me into what is pleasing to You and use me as You will, O Lord." Here we surrender, here we can be uplifted and filled by Him who made us.
When our patience seems non-existent, our love for humanity or even ourselves is lacking, or our excitement for pursuing God in worship/prayer/meditation wanes – offer all to Him for He is the author and perfecter of our faith. It is He who works in us to will and do according to His good pleasure. Cry out to Him, tell Him all the secret hidden things, all the ways that life seems to be grating on our nerves. Wait for His peace that passes understanding and His hand to move upon our hearts and situations. Here we can lift up our heads for our deliverance draweth nigh.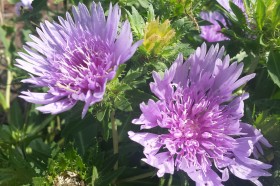 "For it is God who works in you to will and to act in order to fulfill his good purpose. Do everything without grumbling or arguing,  so that you may become blameless and pure, "children of God without fault in a warped and crooked generation." Then you will shine among them like stars in the sky as you hold firmly to the word of life."  Ephesians 2:13-16a
"Therefore, since we are surrounded by such a great cloud of witnesses, let us throw off everything that hinders and the sin that so easily entangles. And let us run with perseverance the race marked out for us,  fixing our eyes on Jesus, the pioneer and perfecter of faith. For the joy set before him he endured the cross, scorning its shame, and sat down at the right hand of the throne of God.  Consider him who endured such opposition from sinners, so that you will not grow weary and lose heart."  Hebrews 12:1-3