When at last we cry out to God and give Him our all – imaginations, time, will, heart, plans, preferences, disappointments – what and abundant peace and joy fills us to overflowing. Let us week more of the knowledge of Christ, for in Him is the light of our lives and the purpose and satisfaction we so crave. We were born to seek Him, and in Him is everything fulfilled.
When even a small part of ourselves is held back to brandish our lusts and heated desires upon, we lose this vibrant fellowship of peace and joy. The lie of the enemy is that we must satisfy our desires at any cost, for God will not fulfill them. God's truth is that in His time and way He will give us the desires of our heart, but He will not give us what will overcome and destroy all to fulfill self's outcries. We must trust Him with our inner most workings and live in the mindset, "He must increase, but I must decrease" (John 3:30).
When self is offered continually on the alter of sacrifice, with all its self-imposing lusts and enticements that draw us away from our Beloved, then we are free to skip along like a fresh shorn sheep in the green and lush pastures of our Shepherd – taking delight in His ways and His words. Here we are useful vessels to set the captive free, speak a word in season to a weary soul, pour out as we are prompted by the Holy Spirit to meet all manner of needs – for we are connected with the One who is limitless in His supply for health, means, ways made, and authority to bring light in darkness.
     Oh My love, hold nothing back from Me. Let us walk as one with no hidden place in your thoughts or heart. Let Me soothe your emptiness and fill you to overflowing. The lie of the world is that its ways leave you full and I leave you empty. But here is the paradox, he who empties Himself of the world and follows Me will be filled to overflowing. I create in abundance – look at creation itself – all that I have formed as the works of My hands. Can you count the starts, do you see the abundance of leaves on a tree, do you see the intricate details even of the wings of an insect? How manifest are My works so that none are without excuse.

     Come to Me you who toil and I will give you rest, labor not in your own strength, but take upon you My yoke and burden, for it is easy and light. Take delight in Me and I will give you joy overflowing. Choose not to go your own way or to satisfy yourself with your own means, but ask Me and I will give you what is needful. I do not hold back to destroy you, but to keep you from being destroyed. I delight to give you good gifts. Open wide your mouth and I will fill it. Come to Me continually for your supply, wisdom, joy, peace, all that you have need of. I am the way, the truth, and the life.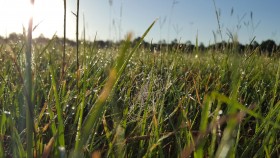 "Whoever dwells in the shelter of the Most High will rest in the shadow of the Almighty. I will say of the Lord, 'He is my refuge and my fortress, my God, in whom I trust.' Surely he will save you  from the fowler's snare and from the deadly pestilence. He will cover you with his feathers,  and under his wings you will find refuge; his faithfulness will be your shield and rampart. You will not fear the terror of night, nor the arrow that flies by day, nor the pestilence that stalks in the darkness, nor the plague that destroys at midday. A thousand may fall at your side, ten thousand at your right hand, but it will not come near you. You will only observe with your eyes and see the punishment of the wicked. If you say, 'The Lord is my refuge,' and you make the Most High your dwelling, no harm will overtake you, no disaster will come near your tent. For he will command his angels concerning you to guard you in all your ways; they will lift you up in their hands, so that you will not strike your foot against a stone. You will tread on the lion and the cobra; you will trample the great lion and the serpent. 'Because he loves me,' says the Lord, 'I will rescue him; I will protect him, for he acknowledges my name. He will call on me, and I will answer him; I will be with him in trouble, I will deliver him and honor him. With long life I will satisfy him and show him my salvation.'"  Psalm 91:1-16
"For God, who commanded the light to shine out of darkness, hath shined in our hearts, to give the light of the knowledge of the glory of God in the face of Jesus Christ."  II Corinthians 4:6
"For though we walk in the flesh, we do not war after the flesh: (For the weapons of our warfare are not carnal, but mighty through God to the pulling down of strong holds;) Casting down imaginations, and every high thing that exalteth itself against the knowledge of God, and bringing into captivity every thought to the obedience of Christ; And having in a readiness to revenge all disobedience, when your obedience is fulfilled."  II Corinthians 10:3-6