As the soul bows down before God and asks forgiveness in true repentance His grace come rushing in and cleanses every part bringing this precious one out of darkens into light. This is an immediate change of the heart condition from a place of bleak hopelessness to a revelation knowledge that, "I can do all things through Christ who strengthens me." After receiving such forgiveness, the light shines brighter, our patience is refreshed, our hearts of love are out-poured with limitless compassion, as we behold His grace that covers all of our transgressions. Even the path is made brighter by the in rush of His grace upon us. Those tasks and responsibilities that before felt like drudgery are transformed into intimate offerings of joy in doing them as unto the Lord.
Our hearts which were before filled with unforgiveness, bitterness, and gall are now clean, new vessels fit for the Master's use ready to pour out His abundant love and mercy to all we encounter. In confessing our sins to Him and turning turn from all acts and thoughts that are of the darkness we experience an unconditional love that leaves us speechless in our flesh but singing forth His praises in our spirit. Standing in His grace we find the flow of the Holy Spirit unhindered as we walk in His forgiveness and bestow upon others this same undeserved grace.  As we continue on in our walk in His light, we leave unforgiveness, judgment, and all manner of evil choices behind. How easy Jesus' yoke and how bright the path grows from day to day as we offer up more of ourselves and take in more of Him.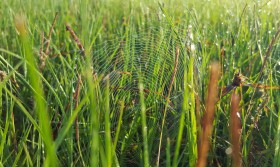 "Therefore being justified by faith, we have peace with God through our Lord Jesus Christ: by whom also we have access by faith into this grace wherein we stand, and rejoice in hope of the glory of God. And not only so, but we glory in tribulations also: knowing that tribulation worketh patience; and patience, experience; and experience, hope: and hope maketh not ashamed; because the love of God is shed abroad in our hearts by the Holy Ghost which is given unto us. For when we were yet without strength, in due time Christ died for the ungodly. For scarcely for a righteous man will one die: yet peradventure for a good man some would even dare to die. But God commendeth his love toward us, in that, while we were yet sinners, Christ died for us. Much more then, being now justified by his blood, we shall be saved from wrath through him. For if, when we were enemies, we were reconciled to God by the death of his Son, much more, being reconciled, we shall be saved by his life. And not only so, but we also joy in God through our Lord Jesus Christ, by whom we have now received the atonement. Wherefore, as by one man sin entered into the world, and death by sin; and so death passed upon all men, for that all have sinned: (For until the law sin was in the world: but sin is not imputed when there is no law. Nevertheless death reigned from Adam to Moses, even over them that had not sinned after the similitude of Adam's tansgression, who is the figure of him that was to come. But not as the offence, so also is the free gift. For if through the offence of one many be dead, much more the grace of God, and the gift by grace, which is by one man, Jesus Christ, hath abounded unto many. And not as it was by one that sinned, so is the gift: for the judgment was by one to condemnation, but the free gift is of many offences unto justification. For if by one man's offence death reigned by one; much more they which receive abundance of grace and of the gift of righteousness shall reign in life by one, Jesus Christ.) Therefore as by the offence of one judgment came upon all men to condemnation; even so by the righteousness of one the free gift came upon all men unto justification of life. For as by one man's disobedience many were made sinners, so by the obedience of one shall many be made righteous. Moreover the law entered, that the offence might abound. But where sin abounded, grace did much more abound: That as sin hath reigned unto death, even so might grace reign through righteousness unto eternal life by Jesus Christ our Lord."  Romans 5:1-21
Hymn: Grace Greater Than Our Sin
By: Julia H. Johnston
1911
Verse 1
Marvelous grace of our loving Lord, grace that exceeds our sin and our guilt!
Yonder on Calvary's mount outpoured, there where the blood of the Lamb was spilled.
Verse 2
Sin and despair, like the sea waves cold, threaten the soul with infinite loss;
Grace that is greater, yes, grace untold, points to the refuge, the mighty cross.
Verse 3
Dark is the stain that we cannot hide. What can avail to wash it away?
Look! There is flowing a crimson tide, brighter than snow you may be today.
Verse 4
Marvelous, infinite, matchless grace, freely bestowed on all who believe!
You that are longing to see His face, will you this moment His grace receive?
Chorus:
Grace, grace, God's grace, grace that will pardon and cleanse within;
Grace, grace, God's grace, grace that is greater than all our sin.