Father, forgive me for not pressing into praying without ceasing. In this place of intercessory prayer in praying in my understanding and in the Spirit such works you bring forth. But in this place of discomfort I have slowly found other things to occupy my attentions, though these things were good they were not this needful place where you had need of me.
How uncomfortable in the flesh is intercession, in bowing oneself down to pray and utter forth those beseechments to God's heart that need to come forth, yet how fruitful in the spirit when this role we fulfill. For many reasons, we may let down our guard and not fully press in as we ought – disappointments of the past of prayers being answered in a different way than expected, those times of pressing in when our prayers feel as though they go no further than the ceiling, the subtle voice of the enemy whispering, "What you are doing is nonsense, nothing will change as a result of prayer." So many challenges to accomplishing this one simple, yet powerful act. So the truth is how influential this bowing our flesh before our Maker and crying out to Him must be in praying according to the Spirit of God within us and seeking, "Not my will but Yours be done."
This act though hard in the flesh is very fruitful in the spirit and shows up in the here and now, whether in words of our own understanding, words in the Spirit, or in groans coming forth from our spirits. Prayer can be asking for healings, blessings, ways made that we do not yet see or imagine. It can also be in praying for those around us for God to lift them up rather than tearing them down with our own tongues in trying to figure them out. Only God knows the musings of man's heart and only He sees the potential in all of His vessels, even in those who are not yet called by His name. At times we may not even know what the prayer is for, but feel a burden on our hearts. Here we must pray and wait upon the Lord until the burden is lifted and His peace is ushered in. We may find out later what the prayer was for or the Lord may only reveal as we stand before Him at the finish of our races. Let us simply trust Him who sees and knows all.
When once we submit ourselves to this blessed act before the Lord, then what life will flow through our bodies, what peace and joy will overtake our hearts, what honey will drip from our mouths, for we are praying and coming into agreement and calling forth God's will be done on earth as it is in heaven. In binding and loosing of strongholds, misunderstandings, praying for unity of Spirit through the bond of peace, in casting out everything that sets itself up against the knowledge of Christ. Not one circumstance in our life is too menial to be bathed in prayer.
Pray without ceasing – come before Him and even in our daily activities and responsibilities let us have a heart of prayer and communion with the Almighty. Such intimacy with Him is shared with those vessels who choose to pray without ceasing. Here we will learn to depend less on our own self-effort on and more on His intervention in softening hearts, in opening and closing doors, in making ways our of no way. Here when we know that our prayer is heard and His peace overwhelms our hearts, a new song of praise raises out of our spirits unto the one who brought forth that request we laid before His feet.
Whether in long suffering prayers where we come before Him for days, months, or years or in the request that is quickly returned to us answered – pray without ceasing. How often overlooked is this mighty weapon of God to demolish strongholds of the enemy and bring light in the world of darkness. Let us never again let fall to our side this great weapon of warfare that can change the world.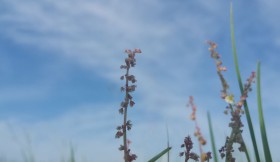 "This is the confidence we have in approaching God: that if we ask anything according to his will, he hears us. And if we know that he hears us – whatever we ask – we know that we have what we asked of him."  I John 15:14-15
"Rejoice evermore. Pray without ceasing. In everything give thanks: for this is the will of God in Christ Jesus concerning you."  I Thessalonians 5:15-18
"Watch ye and pray, lest ye enter into temptation. The spirit truly is ready, but the flesh is weak."  Mark 14:38
"Likewise the Spirit also helpeth our infirmities: for we know not what we should pray for as we ought: but the Spirit itself maketh intercession for us with groanings which cannot be uttered."  Romans 8:26
"Finally, my brethren, be strong in the Lord, and in the power of his might. Put on the whole armour of God, that ye may be able to stand against the wiles of the devil. For we wrestle not against flesh and blood, but against principalities, against powers, against the rulers of the darkness of this world, against spiritual wickedness in high places. Wherefore take unto you the whole armour of God, that ye may be able to withstand in the evil day, and having done all, to stand. Stand therefore, having your loins girt about with truth, and having on the breastplate of righteousness; and your feet shod with the preparation of the gospel of peace; above all, taking the shield of faith, wherewith ye shall be able to quench all the fiery darts of the wicked. And take the helmet of salvation, and the sword of the Spirit, which is the word of God: Praying always with all prayer and supplication in the Spirit, and watching thereunto with all perseverance and supplication for all saints" Ephesians 6:10-18