Draw near to God and He will draw near to us. This is a choice we make, for we can continue on in busyness and distractions,  strive to accomplish what we think is important, or attempt to use our limited methodologies to work things out. We can also choose to offer our lives to God to work things out in His timing and way. We must choose to cease from our striving and come before Him and pray, sing songs of praise and worship in our waking and upon our beds, read His word, listen/watch/read resources that point to Him, meditate upon Him, seek His face, and wait for Him.
What is that thing that occupies our minds and tempts us to worry? What brings frustration or discomfort? What causes our hearts to melt in fear and drain our courage and faith? Should we ask man about the issue or the One who draws us to Himself and woos us to release the thing and watch what He will do? Man's resources are limited, but God's are limitless. Would we live this life in our own wisdom or depend solely on man's wisdom to offer to us what is possible in our lives or come unto Him who loves us, redeemed us, refines us, and makes us into only what He can make possible. If God seems distant, are we seeking Him/drawing near to Him? He is faithful. When once we set our efforts to seeking Him and releasing all of our selves/lives to Him, we will never regret this decision.
Draw near to Him and watch what He does to work it out, settle the issue, and how He moves upon us to change us in His presence. We must not fall prey to trying to figure things out in our limited wisdom, for He desires us to come near to Him, offer this thing to Him, and let Him take from our shoulders the burden. Not only does He woo us to come to Him in the small and large matters, but He desires to give infinitely more of Himself in all ways. We long for God to be so active in our lives that walking with Him daily feels natural as we live moment in the reality that we can do all things through Christ who strengthens us. When we look back at the end of our races, no regrets will we feel when we have cast off all to follow Him, make Him our head, and take on His will for our lives.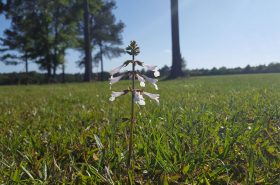 "What causes fights and quarrels among you? Don't they come from your desires that battle within you? You desire but do not have, so you kill. You covet but you cannot get what you want, so you quarrel and fight. You do not have because you do not ask God. When you ask, you do not receive, because you ask with wrong motives, that you may spend what you get on your pleasures. You adulterous people, don't you know that friendship with the world means enmity against God? Therefore, anyone who chooses to be a friend of the world becomes an enemy of God. Or do you think Scripture says without reason that he jealously longs for the spirit he has caused to dwell in us? But he gives us more grace. That is why Scripture says: 'God opposes the proud but shows favor to the humble.' Submit yourselves, then, to God. Resist the devil, and he will flee from you. Come near to God and he will come near to you. Wash your hands, you sinners, and purify your hearts, you double-minded. Grieve, mourn and wail. Change your laughter to mourning and your joy to gloom. Humble yourselves before the Lord, and he will lift you up."  James 4:1-10