While taking a walk, I noticed a spider in his web on the ground. He held his position in the center of his web and was unmoved by the passers by.  As I walked by and knelt to take a picture of him there was no panic evidenced by his scurrying away. Even as our labs trotted by, the spider held his post. What a beautiful lesson in creation of holding to our call from God and fulfilling what we were created to do. The Lord spoke to me of certainty within, a divine confidence in Him, that leaves the inner man unmoved even in treacherous terrain. Oh that we would begin to grasp more and more the love that God has for us and our position in Christ.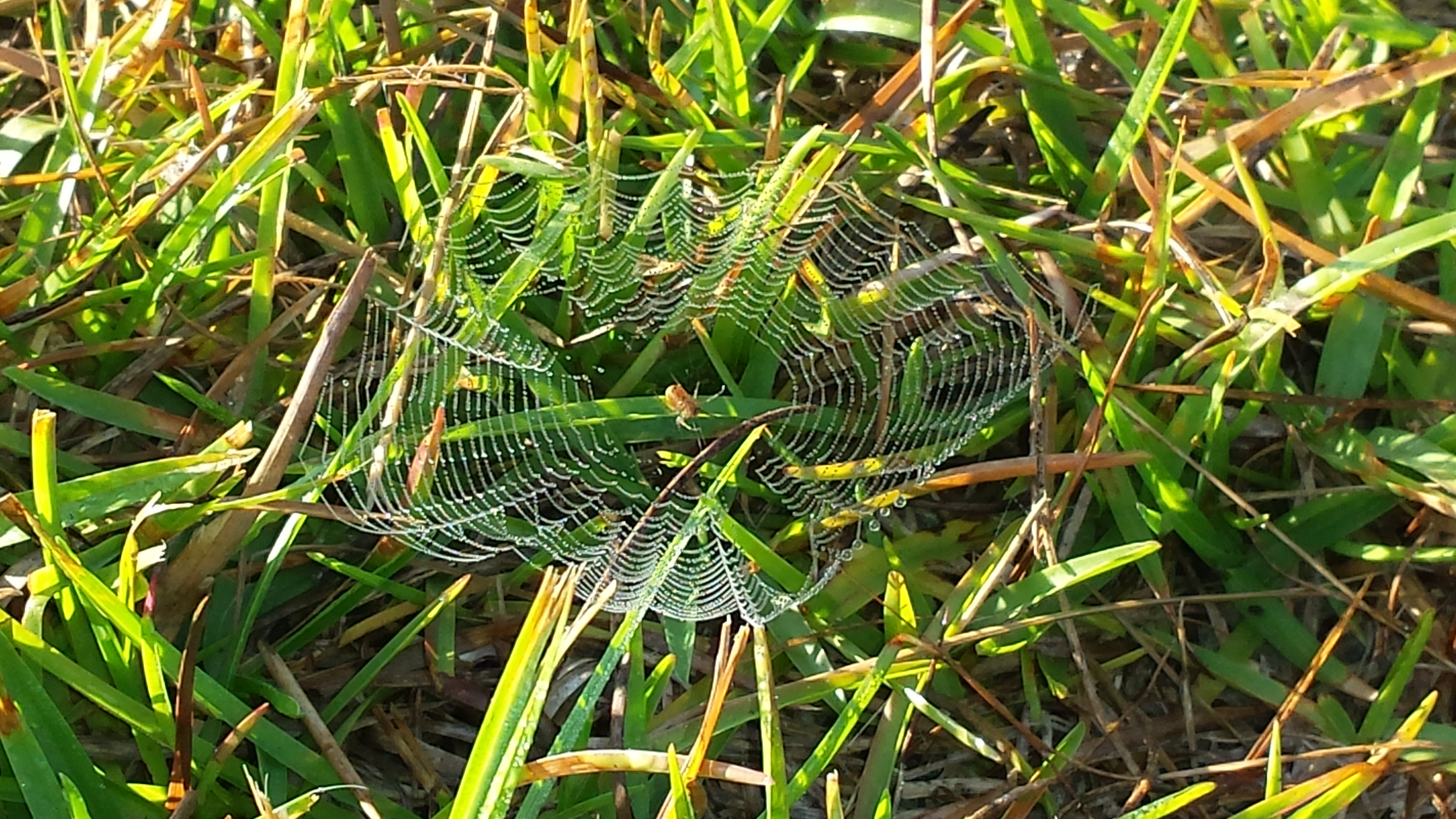 As you learn to take in My beauty – yes, even this is learned, to be still and see and know that I Am God, to see the beauty I've created around you – you are coming to know Me even as you are also known. Though still in part, I desire to reveal myself more and more.

     Do not think you've come to know all there is in Me for I Am beyond the universe, beyond eternity. I Am more than you can know now. I whisper intimately inside you, I place a certainty within so that you will know My path. Even in these quiet whispers you know which way to walk, though your path doesn't clearly appear in the natural. This is how you walk with Me – listening to Me and then watching it unfold.

     You do not take your direction from the look of circumstances or whether the path is clear or filled with brambles, you know by the time you spend with Me, you know even as you are also known for within you I place My certainty. When you have this nothing is impossible for whether you face life or death, blessing or struggle, you will know this I the way I've called you to walk and in this you can rejoice for I am responsible for your steps and for you, My love.

     When we are one and moving and being as one, then all the turmoil and doubt fades, you operate in a deeper place in Me and you become unmovable by the look of things. Your heart will not faint but grow stronger with your confidence and assurance coming from Me.

     Even your reactions and responses to this or that become changed into a response of certainty. You never thought this was possible within you, for has there not been a lack of certainty and constancy? I tell you I make you whole. I make you beautiful. I desire to do this even more. Continue to follow Me, mediate on Me, welcome My presence at every moment and just see what I will do in and through you.

     I speak to you, My love, with an everlasting love. I speak over you with certainty – I instill confidence in Me within you, I instill an unmoveableness where before you were shaky – I place you on a firm foundation that I have built. Continue to operate in My giftings to you, continue to reach out to Me in worship and praise for will I not even give you new ways to express your worship and sounds of beauty will come forth from Your voice for you echo sound of all creation reaching out to Me and calling, "Holy and Mighty is the Lord God Almighty!"

     Even now the limitations that have been around your mind for what is possible are breaking loose, you've seen evidence of this. I break you free even more. My beauty, My bride, My valiant warrior. I make you great, for you desire to offer all of your greatness to Me and to do all for My glory.

     Not one step do you desire to take in your own strength and inspiration, for you desire to move forward in My breath in My will. I tell you I encompass you as a wave and move all the hindrances that are before and around and behind you. Flow in Me, for we will go very far.
"For we know in part, and we prophesy in part. But when that which is perfect is come, then that which is in part shall be done away. When I was a child, I spake as a child, I understood as a child, I thought as a child: but when I became a man, I put away childish things. For now we see through a glass, darkly; but then face to face: now I know in part; but then shall I know even as also I am known. And now abideth faith, hope, charity, these three; but the greatest of these is charity." I Corinthians 13:9-13
"The

Lord

is my shepherd; I shall not want. He makes me to lie down in green pastures: he leads me beside the still waters. He restores my soul: he leads me in the paths of righteousness for his name's sake. Yea, though I walk through the valley of the shadow of death, I will fear no evil: for thou art with me; thy rod and thy staff they comfort me. Thou prepares a table before me in the presence of mine enemies: thou anointest my head with oil; my cup runneth over. Surely goodness and mercy shall follow me all the days of my life: and I will dwell in the house of the

Lord

for ever."  Psalm 23:1-6