Even when we are in a hard place, as Jeremiah was, as we seek the Lord He will tell of us His great and glorious plans. At times, the promises of God may seem too good to be true, but He is faithful and well able to bring forth His plans for our lives. The voice of the Lord inspires us to believe in that which is beyond ourselves. If we can bring it to pass, then it's probably not big enough for God's plan. His ways are beyond our ways and His thoughts bigger than our thoughts.
How exciting to bear with Him and speak life and His will over those things that seem dead or past the time for resurrection or redemption. Walking on the heights with Him means to see from His perspective and wait upon Him to bring forth His will on earth as it is in Heaven. Let us release our limited viewpoints of what is possible in every situation in our lives and let God have His way.
In praying about an organization the Lord laid on my heart, He gave the following word. His word was higher than the circumstances I saw in the natural and He inspired hope and revealed the better way He desired to bring forth in the hard circumstances. As we seek God's truth on matters dear to our hearts and ask Him which way He desires to make, we may be surprised that He still wants to bring forth a great work even when we are ready to throw our hands up and run. There is nothing too hard for Him.
     I always leave a witness of My will and plan. I am continuing the work I started in you in this place. Yes, My heart's desire is to bring forth My Godly organization, to serve as a pattern of what I can do in such a place. I desire that this place would be a city on a hill shedding light of how to govern righteously. You spoke forth My will over this organization as I bring it to mind. I desire to bring this forth, for there are many hearts that cry out to Me.

     Do not speak evil over this organization, but speak My will about it only. You think this to be past time and impossible, and wonder why I would desire to give this to you even at this time, but My child I've prepared you for this. I have waited and born long with you for this to be time to unveil. You have trusted Me and cried out to Me and I have heard. So many desire to see what servant leadership means. I Am. Watch what I will do. More cry out to Me in this place than don't.

     I will move upon this institution and call My chosen leaders forth to fulfill the desolate places that have long been occupied by those who did not operate in My mercy and love, but who operated to build for themselves kingdoms and secure their own thrones no matter the cost to others. I am done with this leadership style, and I pull it down. I loose those whom I have called and I bind those who have not answered My call but persisted in their own rebellion and sin.

     You have wondered why no open doors to move. My love, do I not still have plans for you here? Will I not enlarge your green pastures even in this land? Beloved, I will make your heart filled with contentment though the abundance I provide. Even now you struggle to follow Me and be still before Me. I will restore the years the locust have eaten. I will bring forth those things you counted as dead. You will know it is I who do this and you will be humbled and in awe.

     I do desire to speak to you so that you can proclaim My voice to others, protect those and shelter those who are in despair and wrongly accused and find themselves in the throes of oppression. You are one who will lighten the load and refresh the weary soul. Let no criticisms come forth from your mouth, but speak My life so that all may live for you do not know what I desire to bring forth in even the least of these. Overlook none. Be expectant of all. I can change hearts and rise up in giftings you would not expect.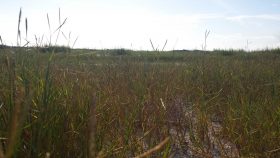 "While Jeremiah was still confined in the courtyard of the guard, the word of the Lord came to him a second time: 'This is what the Lord says, he who made the earth, the Lord who formed it and established it – the Lord is his name: call to me and I will answer you and tell you great and unsearchable things you do not know.' For this is what the Lord, the God of Israel, says about the houses in this city and the royal palaces of Judah that have been torn down to be used against the siege ramps and the sword in the fight with the Babylonians: 'they will be filled with the dead bodies of the people I will slay in my anger and wrath. I will hide my face from this city because of all its wickedness. Nevertheless, I will bring health and healing to it; I will heal my people and will let them enjoy abundant peace and security. I will bring Judah and Israel back from captivity and will rebuild them as they were before. I will cleanse them from all the sin they have committed against me and will forgive all their sins of rebellion against me. Then this city will bring me renown, joy, praise and honor before all nations on earth that hear of all the good things I do for it; and they will be in awe and will tremble at the abundant prosperity and peace I provide for it.' This is what the Lord says: 'You say about this place, It is a desolate waste, without people or animals. Yet in the towns of Judah and the streets of Jerusalem that are deserted, inhabited by neither people nor animals, there will be heard once more the sounds of joy and gladness, the voices of bride and bridegroom, and the voices of those who bring thank offerings to the house of the Lord, saying, give thanks to the Lord Almighty, for the Lord is good; his love endures forever. For I will restore the fortunes of the land as they were before,' says the Lord. This is what the Lord Almighty says: 'In this place, desolate and without people or animals – in all its towns there will again be pastures for shepherds to rest their flocks. In the towns of the hill country, of the western foothills and of the Negev, in the territory of Benjamin, in the villages around Jerusalem and in the towns of Judah, flocks will again pass under the hand of the one who counts them,' says the Lord. 'The days are coming,' declares the Lord, 'when I will fulfill the good promise I made to the people of Israel and Judah. In those days and at that time I will make a righteous Branch sprout from David's line; he will do what is just and right in the land. In those days Judah will be saved and Jerusalem will live in safety. This is the name by which it will be called: the Lord Our Righteous Savior.'  For this is what the Lord says: 'David will never fail to have a man to sit on the throne of Israel, nor will the Levitical priests ever fail to have a man to stand before me continually to offer burnt offerings, to burn grain offerings and to present sacrifices.'" The word of the Lord came to Jeremiah: 'This is what the Lord says: If you can break my covenant with the day and my covenant with the night, so that day and night no longer come at their appointed time, then my covenant with David my servant – and my covenant with the Levites who are priests ministering before me – can be broken and David will no longer have a descendant to reign on his throne. I will make the descendants of David my servant and the Levites who minister before me as countless as the stars in the sky and as measureless as the sand on the seashore.' The word of the Lord came to Jeremiah: 'Have you not noticed that these people are saying, The Lord has rejected the two kingdoms he chose? So they despise my people and no longer regard them as a nation.' This is what the Lord says: 'If I have not made my covenant with day and night and established the laws of heaven and earth, then I will reject the descendants of Jacob and David my servant and will not choose one of his sons to rule over the descendants of Abraham, Isaac and Jacob. For I will restore their fortunes and have compassion on them.'"  Jeremiah 33:1-26