What part of ourselves do we hold back from the Lord? How do we treat Him? Do we seek Him when we have need of His hand and zone out to find comfort and diversion elsewhere when we have experienced His peace, blessing, or answered prayer? Let us look around at how others in our lives behave toward us? Are we doing similarly to our Beloved?
How much He desires that we focus on Him in the everyday and the every night. In all we do to dwell in Him, fellowship with Him, feel His pleasure in all of our activities. Do we still run to the seductions of the world to find comfort, even if for a few moments or hours? Do we use activities to zone out from all that is happening around us and even shut out our Beloved and those we love? Oh, what would God do if we were to live every moment on purpose with a conscious dwelling in Him? Is this even possible? Oh yes, this is how we were created to live. Not as a halfhearted vessel that offers itself up to its Creator only when in use.
Oh, how much more He desires to share with us in our down times, when we are not working or pouring out to others. How much we miss when we shut down and hold parts of ourself to ourself rather than abiding in Him at all times. He bids us come and sup with Him, make our abode with Him, to walk with Him moment by moment.
Consider a precious follower of Christ that submits 15% of themselves to seeking God and communing with Him and another who commits 90% of themselves. In both of these there is still more to open up to the Holy Spirit. What untold blessings, sweet fellowship, glorious insights, divine outpourings, unfathomed mysteries of God we forfeit when we do not open 100% of our heart and our time to Him. We think we have fellowship now or are enjoying His blessings, but how empty we find those places we hold back from our Lord when we shut down to dwell there and partake of fruitless deeds to find relief from the woes of the world.
This openness to God is an attitude of the heart, a choice to be conscious of the presence of the Holy Spirit each moment of the day. It is being sensitive to His promptings in each choice we make whether how to complete a project, what to say to a person, or even what to watch on television. This is not to say we are to walk around with hands folded and sporting a pious brashness so that none can touch us. Jesus never walked in this way, He was approachable by people of all ages and from all ethnic backgrounds. Jesus met men and women in the common ways, right where they were to bring them higher. He was so One with the Father's heart, he did not spend time on anything which was displeasing.
Oh beloved, our Lord longs even aches to refresh us by quiet waters in His presence – to make us complete in Him. How much more He desires to share with us if we would only offer our all. There are choices we are faced with each day that will bring us closer to Him so that we might enjoy His fellowship, and there are choices that would draw us further from Him and drive a wedge in this sweet communion.
Whatever parts of ourselves we hold back, let us do so no longer. Let us ask Him how to release all so that we might dwell with Him and feel His pleasure in whatever we put our hands to. What do we fill our time with? Let us become aware of our choices and His promptings in the day and night. We will be so transformed into His image by dwelling in full and continuous fellowship with Him, we will find it unnatural to be in any other state of being.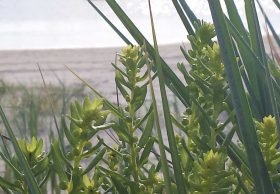 So much I desire to pour out on My beloveds. I offer so much more than you can imagine even in your current state with all of your experiences with Me. Oh My love, I desire to manifest My Spirit and power in this dark days so that all men may know Me. As you let Me have more of yourself I can pour through you mightily. When you keep these hidden places from Me then My work in your life is hindered.

     I need a willing and open vessel to pour through. Oh that you would let Me form you into a pot that I see fit – how fulfilled you would be. No more seeking and grasping at that which doesn't satisfy. I have a plan ready for you, just come to Me and offer all. Do not turn back when circumstances appear the opposite of what I've said to you or promised in My word, just stand and trust in Me. How mighty a way I would make.

     Did the children of Israel formulate their own plan and panic when before them was a vast sea and behind them were Egypt's armies bearing down upon them. They trusted Me even unto death and I delivered. I parted the sea so that they might walk through, not on muddy flats but on dry ground. I did exceedingly abundantly beyond all they could ask or imagine. I destroyed their enemies as well and left My chosen one's intact. Will I not do the same for you.

     Trust Me with yourself, come to Me. I know you have misgivings and doubts, but come to Me with those and lay open before Me in prayer and supplication. Take in My word and come to know Me. I will not leave you desolate, but will fill you with rivers of living water. Even now you wonder if you can make it. My love, I desire to strengthen you not only to make it but to build others up around you, to set the captives free, and do all manner of miracles and wonders through the works of your hands as I strengthen and inspire you in My presence. You are more than a conqueror through Me.

     Keep no part of yourself held back, but come to Me with your whole life, with all of your time, and invite Me to dwell with you throughout the day and night season. Yours will be a new walk of abundance and joy that all those around you will notice the difference in a life touched fully by Me.
"Remain in me, as I also remain in you. No branch can bear fruit by itself; it must remain in the vine. Neither can you bear fruit unless you remain in me."  John 15:4
"Therefore, I urge you, brothers and sisters, in view of God's mercy, to offer your bodies as a living sacrifice, holy and pleasing to God – this is your true and proper worship. Do not conform to the pattern of this world, but be transformed by the renewing of your mind. Then you will be able to test and approve what God's will is – his good, pleasing and perfect will."  Romans 12:1-3