Speak Lord, we offer our deep places to Thee. Those places in our hearts where grief resides, insecurities, wounds, and fear. Come there and heal us for where you are no darkness can dwell. Oh tender Beloved, You lead us on to our next steps and into eternity. Let us stand in the purposes for which You have created us in all confidence in You. We ask for wisdom, understanding, and Your presence so strong on us and flowing through us with Your Holy Spirit unhindered that others would be refreshed by it. Make us to stand and not grow weak, make us to walk and not stoop low from being disheartened. It is in Thee we find our purpose, our strength, our peace. Help us be joyful in hope, patient in affliction, and faithful in prayer as we open all of our hidden places unto Thee and let You do with us what You will.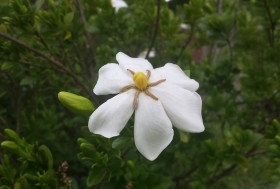 When your spirit cries out to Me and your soul and body weeps, I Am there. I Am your comfort and I tenderly care for you and guide you. At times you do not know the cause of the cry for your deepest frame is injured as it were from assault, neglect, or disappointment. Let Me brighten your days, all the days on this earth and throughout eternity. Do not depend on your own strength, but depend on Me. Come to Me, you who are weary and heavy laden and I will give you rest.

     Follow Me wholeheartedly, let pride be not a factor in your evaluation of yourself but look to Me for your delight and affirmation. I see you more tenderly than you see yourself. My love, how hard you are on yourself, just be at ease and let Me make you into the vessel I'm fashioning you to be. Take the refinement with all patience and endure humiliations as unto Me. Learn what I teach you every day, for I have much to show you. Will not I teach you all of your days of something new?

     Be not weary in the learning process for I take great delight in you right where you are. This news astounds you for you think, "How could You love one such as me, I'm not all I should be yet." My love, you don't earn My love or acceptance, you just receive and I do the rest. I make you righteous, I give you wisdom, I shower you with grace, I surround you with comfort and compassion. My love, be filled with My presence and conscious of My nearness, understand My love for you.

     Understand what My love means for in your deepest places. You say, "Yes, I know the Lord loves me, but what good does it do I'm still so flawed." My love makes all the difference. Be at ease and be not hard on your weaknesses or failings, just walk with Me and let Me prompt and guide you in all you are to do for that day, leave all to Me. In this each task you will find joy for you will be conscious that I am right there with you in its doing. From the meanest to the most skilled task, welcome My presence.

     For you who are grieving over losses, wounds, or disappointments in yourself or others  – open these deep places to Me and let My healing make you whole just as these who struggle with not being good enough. All are mine and I take great delight in each of you. I lead each lamb along and leave none behind. I carry those who are too weak to walk and encourage those who need a word from My mouth to give them inspiration. Each I lead at a different pace, so do not judge the pace of those around you. Each are precious to Me.

     Be aware of My presence and let it settle upon your weary and struggling mind and crushed heart and lift you to heights in Me that you thought were so far away. I lift up those who are bowed down and take them to places in My presence they thought were so many years away or didn't exist, for I draw near the humble but resist the proud. Humility is not weakness, but a savory fragrance to Me for it shows your dependence upon Me. I speak lightness of step and joy of heart, My love. Know I am very near and bear with you. Let My anointing be so strong upon you that it drips form your hands and runs down your garments – humility brings you closer to Me.
Romans 12:1-21
Therefore, I urge you, brothers and sisters, in view of God's mercy, to offer your bodies as a living sacrifice, holy and pleasing to God—this is your true and proper worship. Do not conform to the pattern of this world, but be transformed by the renewing of your mind. Then you will be able to test and approve what God's will is—his good, pleasing and perfect will. For by the grace given me I say to every one of you: Do not think of yourself more highly than you ought, but rather think of yourself with sober judgment, in accordance with the faith God has distributed to each of you. For just as each of us has one body with many members, and these members do not all have the same function, so in Christ we, though many, form one body, and each member belongs to all the others.
We have different gifts, according to the grace given to each of us. If your gift is prophesying, then prophesy in accordance with your faith; if it is serving, then serve; if it is teaching, then teach; if it is to encourage, then give encouragement; if it is giving, then give generously; if it is to lead, do it diligently; if it is to show mercy, do it cheerfully. Love must be sincere. Hate what is evil; cling to what is good. Be devoted to one another in love. Honor one another above yourselves. Never be lacking in zeal, but keep your spiritual fervor, serving the Lord. Be joyful in hope, patient in affliction, faithful in prayer. Share with the Lord's people who are in need. Practice hospitality.
Bless those who persecute you; bless and do not curse. Rejoice with those who rejoice; mourn with those who mourn. Live in harmony with one another. Do not be proud, but be willing to associate with people of low position. Do not be conceited. Do not repay anyone evil for evil. Be careful to do what is right in the eyes of everyone. If it is possible, as far as it depends on you, live at peace with everyone. Do not take revenge, my dear friends, but leave room for God's wrath, for it is written: 'It is mine to avenge; I will repay,' says the Lord. On the contrary: 'If your enemy is hungry, feed him; if he is thirsty, give him something to drink. In doing this, you will heap burning coals on his head.' Do not be overcome by evil, but overcome evil with good.
Hymn: Precious Lord, Take My Hand
Thomas A. Dorsey  – 1932
Precious Lord, take my hand, Lead me on, let me stand,
I am tired, I am weak, I am worn; through the storm, through the night,
Lead me on to the light: Take my hand, precious Lord, lead me home.
When my way grows drear, precious Lord, linger near,
When my life is almost gone, hear my cry, hear my call,
Hold my hand lest I fall: Take my hand, precious Lord, lead me home.
When the darkness appears and the night draws near,
And the day is past and gone, at the river I stand,
Guide my feet, hold my hand: Take my hand, precious Lord, lead me home.