There is a place of walking with the Lord that is known as "entering into His rest" which is evidenced by the vessel as complete trust and unshakeable confidence that all is well in Christ. Andrew Murray (1828-1917) was a Christian writer, teacher, and pastor who wrote many works on the topics of a close walk with God and living the surrendered life. In the book, The Master's Indwelling, he compares this life of rest for the Christian as entering into Canaan as did the children of Israel.
Murray writes: "That is the difference between the life of a Christian who has, and who who has not entered into Canaan. In wandering backward and forward; going after the world, and coming back and repenting; led astray by temptation, and returning only to go off again; – a life of ups and downs. In Canaan, on the other hand, a life of rest because the soul has learned to trust: 'God keeps me every hour in His mighty power.' There is a second difference: the life in the wilderness was a life of want: in Canaan, a life of plenty. In the wilderness there was nothing to eat; there was often no water. God graciously supplied their wants by the manna, and the water from the rock. But, alas! they were not content with this, and their life was one of want and murmurings.But in Canaan God gave them vineyards that they had not planted, and the old corn of the land was there waiting for them; a land flowing with milk and honey; a land that lived by the rain of Heaven and had the very care of God Himself. Oh Christian, come and say to-day, 'I believe there is a possibility of such a change out of that life of spiritual death and darkness, and sadness, and complaining, that I have often lived, into the land of supply of every want; where the grace of Jesus is proved sufficient every day, every hour.' Say to-day: 'I believe in the possibility that there is such a land of rest for me.'"

Throughout the Old Testament, we see evidence of God's care in bringing the children of Israel into victory over their enemies time and time again, as well as into the promised land of Canaan. As the Lord leads us on into fully manifesting His life lived on earth through our mortal bodies, let us cast off every care, hold nothing back from Him, and enter into this rest here in the land of the living. No matter what we've seen or lived through, our hope is unshakeable when it is set fully on Christ.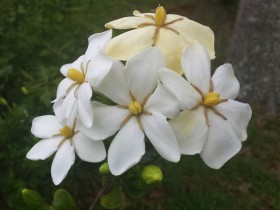 My love, you have embraced the unknown and accepted My workings in your life. Here I can use you fully. Whether I exalt or debase you, you are mine. I can pour through you, through a pure vessel – for your heart trusts safely in Me and you depend on Me even for your next breath. My love, I use this willingness mightily – you know Me and your heart rests confidently in Me, unmoved by man's opinion whether high or low, whether in agreement or disagreement.

     Even as the Israelites stood upon the wall and waited in silence for My deliverance, I heard their cries, saw their fears, felt their hearts melt, but they stood (II Chronicles 32). As the breeze blew over their skin, I caressed them and they knew in life or in death – all is well. You even stand in the impossible and say in your heart through waterfalls of tears – "All is well."

     I will restore these devastated places – they are not lost or forgotten, I just shore them up with different bricks than you expected, but each brick is built by My loving hands. My lovely vessel, I do not need you to effort in your next steps, but let Me flow through you. Walk lightly in Me, I will be your voice, I will be your insight and wisdom, I will delight in what I move you to create.

     You, My love, bore with Me in this hard place in prayer and pressures. Now is the time for My move to come forth in the secret and hidden places. You have sought to go elsewhere, for you did not think I could still redeem all the words spoken over you concerning this place. Did I not use this to teach you a more important lesson, that it is never too late to see My word fulfilled and not return to Me void?

     You are one that I keep close to My heart. You enter into My tender places and commune with Me and share My heart for places, people, circumstances. I'm teaching you to know My heart, proclaim what I desire to bring forth, and stand and wait for My deliverance.

     You've sought to even move from this place, when I desire to show you My masculinity, ruggedness, and deliverance here and now. Your heart pants for adventure, and I'm about to take you on a great adventure and order each step. You have not lost time but gained ground in Me. I am placing you right where I can use you. Watch what I will do.
"And I am come down to deliver them out of the hand of the Egyptians, and to bring them up out of that land unto a good land and a large, unto a land flowing with milk and honey; unto the place of the Canaanites, and the Hittites, and the Amorites, and the Perizzites, and the Hivites, and the Jebusites."  Exodus 3:8
"Come unto me, all ye that labour and are heavy laden, and I will give you rest. Take my yoke upon you, and learn of me; for I am meek and lowly in heart: and ye shall find rest unto your souls.

For my yoke is easy, and my burden is light.

"  Matthew 11:28-30
"In the last day, that great day of the feast, Jesus stood and cried, saying, If any man thirst, let him come unto me, and drink. He that believeth on me, as the scripture hath said, out of his belly shall flow rivers of living water.

(But this spake he of the Spirit, which they that believe on him should receive: for the Holy Ghost was not yet given; because that Jesus was not yet glorified.)

"  John 7:37-39
"The thief cometh not, but for to steal, and to kill, and to destroy: I am come that they might have life, and that they might have it more abundantly."  John 10:10
"While it is said, Today if ye will hear his voice, harden not your hearts, as in the provocation. For some, when they had heard, did provoke: howbeit not all that came out of Egypt by Moses. But with whom was he grieved forty years? was it not with them that had sinned, whose carcases fell in the wilderness? And to whom sware he that they should not enter into his rest, but to them that believed not? So we see that they could not enter in because of unbelief.

Let us therefore fear, lest, a promise being left us of entering into his rest, any of you should seem to come short of it.

"  Hebrews 3:15-4:1