The Lord fashioned you for a purpose. The enemy knows this and has set out to orchestrate a way to hide this revolutionary fact. Every person's story is different and the means by which the enemy tries to trap, derail, or cover up your purpose is varied. For some it started early in life as something they were blamed for that wasn't their fault, for others it was an acute circumstance where they were humiliated or hurt, for others it was a traumatic event or series of greater or lesser events that came against you to build up a wall of deceit to hide your God created purpose. There can be a thousand different strategies to keep you under earthly and natural mindsets and responses to events, but all have the same purpose  – to wound your soul.
Why are you downcast, oh my soul, why so disquieted within me? Put your hope in God for I shall yet praise Him, my Savior and my God. (Psalm 43:5)

Ask the Lord to reveal the plans of the enemy to bury your God created purpose. Be released from bearing about the yoke of the enemy and take upon Jesus' yoke – whose yoke is easy and burden is light. The following was a revelation of the enemy's plan for my life, told from the enemy's perspective, revealing strategies used to bury my God created purpose. I share it in hopes that it will cast light on a weary soul to fully realize the truth of God's purpose for your life.
Strategies from the Enemy's Camp

Let's us wreck her soul. She is at an impressionable age so we will use this event to get her to start blaming herself and reinforce our lies that she is worthlessness until she believes she is not enough and deserves every bad outcome in her life. Let us use discouragement, distraction, delay, all with a full does of deceit!

We started digging a trench from the lie that the circumstance was her fault, so the self-blame she now operates in will be entrenched in her personality. Now we will dig the trench even deeper so that she seeks her worth from pleasing others and measures her value from their responses. We will put her with those who do not see her God-given gifts and talents, we will suggest that they shape her with words of criticism and rejection to make her try harder.
Let us focus our efforts on her life, for what she is made for must be suffocated. We cannot crush her abilities that God gave her, we must make her believe they are worthless. We must not be discouraged when His gifts and talents surface, for we cannot hold back this tide. We can try to make her believe she shouldn't even try, but if she does, the successes will break through and she will earn high achievements. We cannot stop the gifts and calling, but we can try to hinder her enjoyment of these accomplishments throughout her life! 
We can manipulate those around her who act out of their flesh.The people in her life will not even know we are using them! Those who are His and walk in the Spirit will be hard to use, for they speak and act with love, joy, peace, patience, kindness, goodness, gentleness, and self-control. These responses will only build her up and get her closer to understanding the reason for which she was created. However, we can do much damage when people operate from their flesh, you know, with our tools: hatred, contentions, jealousies, outbursts of wrath, selfish ambitions, dissensions, heresies, envy, adultery, fornication, uncleanness, lewdness, idolatry, sorcery, murders, drunkenness, revelries, and the like. Yes, these are very effective for wreaking havoc.

They do not know her heart is tender and can be led by God with the gentlest whisper. They do not know that she would lay down her life in a second if He called upon her to give it for another. They do not know how she finds pleasure in working to create and give and work hard, for she feels God's pleasure in all these efforts. Let's make them believe that she must be punished and scolded to produce. We will suggest to those around her to speak words that she needs to try harder for she isn't good enough no matter what she does. They don't know that even during rest her mind is creating. They do not realize the power that one moment in His presence would enlighten her mind to see through our smoke screen, calm her fears, and make her whole. So let us encourage distractions to keep her busy and away from His truth.

When she makes a low A on a test, let us influence the teachers and parents to make comments such as, "Why didn't you make an A+?" They will think they are encouraging her to do better, but they don't know she was built to operate in excellence by the Almighty. She will agree with these out-of-place exhortations and think she should have tried harder. 
When she slips up, we will encourage those around her to overreact with punishments that do not fit the crime. This will reinforce the lie that she is worthless and no good.
When she creates something innovative, we will make the negative feedback the loudest – even though what she produces is actually brilliant and needful. We will make her feel ashamed for even trying. He made her a creative, so she won't be able to help herself. She will continually propose and propose only to be rejected again and again. Some things will get through and people will call them brilliant, but we will call to remembrance the ones that didn't and suggest she focus on these memories of past failures.
When she needs encouragement, we will influence others to tear her down by picking at the smallest of threads (a hair out of place, her jeans fitting too tightly, a blemish on her face) – yes, that's it! Let's surround her with bullies throughout her life. They must be subtle yet persistent. Let it go on year after year, so those in authority over her will block her from rising for they will not recognize her created purpose. Let's suggest to them to laugh at her efforts and call her creative ideas useless. Let us be cautious, for those leaders who are Godly and walk after the Spirit, we have no power over and they will encourage her to excel – and she will. But in those leaders who walk after the flesh seeking their own good, we can easily influence and wreak such havoc. We will make them shame her to fit into a certain mold that they call acceptable, even though God has made her unique.

When she needs rest, we will make others interpret this in a different way and call her lazy. This will make her drive to keep trying and keep producing incessantly. Let us keep her busy always trying harder to please.
When she falls in love, we will surround her with voices scolding her happiness. Let us sorely tempt her with fornication and incite jealousy and misunderstanding for the important task of sabotaging the relationships. We will make her believe there is something wrong with her and break her heart with rejection. We will confuse her by whispering, "You do not deserve love or blessing." Let us mask the fact that He tenderly cares for her, so that she will interpret His love through circumstance and not truth. This will make her strive more fervently to be deemed acceptable by man rather than God's unfailing love.

When she sets herself apart to be pure and to the One who made her, we will whisper to those around her to speculate about her wrongly and create rumor upon rumor to sully her reputation, for she cares deeply what others think…remember, we've conditioned her to find her worth and identify from mankind, and not her Creator. If she will not partake of the evil delights of the world, we will ensure she is accused of them all. When she does slip and taste of any of the world's fleshly delights – and they all do, let us heap condemnation until she is filled with such guilt and shame she will stay away from His throne of grace.
When she is empty, let us tempt her to to use earthly substance to fill her empty aching soul, for most of them do. When she takes the bait, let us compel her to be extreme. Let us break her down piece by piece until she does not even look like the vessel God created her to be.
When she needs to draw away and be alone with Him – exhausted from the spiritual battle that rages over her soul – we will whisper the word, "moody" into the ears of her influencers so they will accuse her of not being sociable. Let us make her even feel guilty for wanting to steal away from the noise of life. We do not want her to spend time alone with the Ancient of Days.
When she seeks to explore new lands or do something great, we will surround her with words of caution and fear from her friends and family, making her stay at home. We will keep her hemmed in by those who say they love her, so she does not travel the world or go on an adventure. We do not want her to be a missionary, trust God is leading her, view the beauty of God's creation, or hear the sound of people of all nations worshiping the same One she adores. Let us keep her away from such breathtaking adventures. Better to keep her captive – oh what would happen if she got out?

When she believes a promise of God, we will try to delay it until she loses hope. Let us tell her she waits in vain for a beloved, for a healing, for a breakthrough. Let us turn up the noise of the world which yells she is too old or unfit for marriage, that God doesn't heal in our day, that she has not enough faith. Let us whisper in the night time, "Who could love you?"

Oh, what an ingenious plan! What a delicious manipulation of a life!
Wait, she has given up even the rights to herself and still cries out to God. She is seeking Him even in her suffering. She desires to know about the Bride of Christ and what this means in the natural realm. Let us see if we can distract her from this seeking the One who created her, for this can only end badly for us and lay our plans to naught.
Wait, God has brought a Godly man who seeks Him too on the scene?! She has laid hold to the Word and is believing for God's chosen husband for her. I remember a passage from the Book that covered such as this:
The voice of my beloved! Behold, he comes Leaping upon the mountains, skipping upon the hills. My beloved is like a gazelle or a young stag. Behold, he stands behind our wall; he is looking through the windows, gazing through the lattice. My beloved spoke, and said to me: 'Rise up, my love, my fair one, And come away. For lo, the winter is past, the rain is over and gone. Rise up, my love, my fair one, and come away! O my dove, in the clefts of the rock, in the secret places of the cliff, let me see your face, let me hear your voice; for your voice is sweet, and your face is lovely. Catch us the foxes, the little foxes that spoil the vines, for our vines have tender grapes.' My beloved is mine, and I am his. (Song of Solomon)
No! God created a man to see through our plan for her downfall! He sees her value, he loves her as Jesus does the Bride!
Let us formulate a new plan.
Let us break up their marriage with sorrow. We will continue to blind her to her worth, purpose, and reinforce the false mentalities we took years buttressing. This will drive a wedge between the new couple. If we can get him to give up on ever seeing her worth and reject her, then we've won! Perhaps then she will finally believe our lie that she has no worth. It has worked for so many others. Make them continue to believe that they there is some inherent flaw within them even though there is hope for restoration and newness – let us shield this warm, inviting truth from their eyes.
It's been years and they are still married! We've made everything hard between them. We've removed the delights of marriage and put flies in every ointment. Why isn't he walking away from her? Why isn't she running from him? At times they both want to, yet they stay and cry out to the One who created them! Let us bring sickness upon their families and surround them with death… They say they believe the Word, we shall see…
We've taken everything away from them – family, friends, honored titles in their vocations and even tried to make sickness stick on them – why won't they leave each other? Why won't they give up on God's promise for deliverance and blessing? It isn't fun for them anymore, so why do they stay together? Why do they keep believing the Word:
Humble yourselves under the mighty hand of God, that He may exalt you in due time, casting all your care upon Him, for He cares for you. Be sober, be vigilant; because your adversary the devil walks about like a roaring lion, seeking whom he may devour. Resist him, steadfast in the faith, knowing that the same sufferings are experienced by your brotherhood in the world. But may the God of all grace, who called us to His eternal glory by Christ Jesus, after you have suffered a while, perfect, establish, strengthen, and settle you. To Him be the glory and the dominion forever and ever. (I Peter 5)
We're not even having fun manipulating them anymore…Why do they keep turning to Him? Now they are praying together! Now they are reading the Bible as seeing every promise as theirs to lay hold. She is about to see the truth of who God made her to be…about to break through our cloud of deception.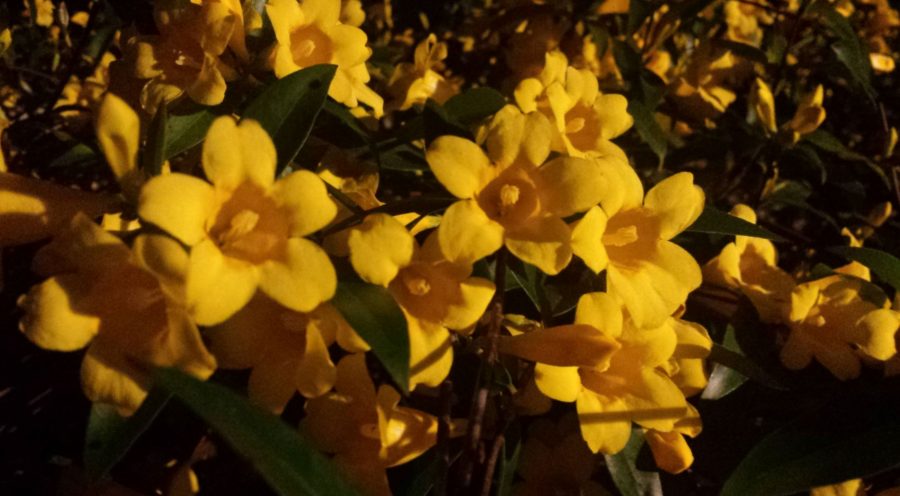 Our Lies are Exposed.
We had a good run with her life for a long season, we hindered and manipulated, and delayed. However, the One who fashioned this vessel, surrounded her with songs of deliverance, He set her feet upon solid ground, He broadened the path beneath her so that her ankles did not turn, He set her on the high places, He taught her hands to war, He gave her the shield of His salvation to extinguish our flaming arrows.He held her up by His right hand. His gentleness has made her great! Let us run, for she will surely pursue and overtake us.
Let us rally at another location and build up ramparts on another soul, until we return at a later time to see if her walls are strong, as we are always searching too and fro at whom to find whom we may devour. She will surely write about this and proclaim the goodness of the Lord in the land of the living. She will surely begin to live fully in the purpose for which she was made. Let us see what harm we can do to another before they read of this revelation and get freedom to be what God created them to be.
Luke 4:1-13
"Jesus, full of the Holy Spirit, left the Jordan and was led by the Spirit into the wilderness, where for forty days he was tempted a by the devil. He ate nothing during those days, and at the end of them he was hungry.The devil said to him, 'If you are the Son of God, tell this stone to become bread.' Jesus answered, 'It is written: 'Man shall not live on bread alone.' The devil led him up to a high place and showed him in an instant all the kingdoms of the world. And he said to him, 'I will give you all their authority and splendor; it has been given to me, and I can give it to anyone I want to. If you worship me, it will all be yours.' Jesus answered, 'It is written: 'Worship the Lord your God and serve him only.' The devil led him to Jerusalem and had him stand on the highest point of the temple. 'If you are the Son of God,' he said, 'throw yourself down from here. For it is written: He will command his angels concerning you to guard you carefully; they will lift you up in their hands, so that you will not strike your foot against a stone.' Jesus answered, 'It is said: Do not put the Lord your God to the test.' When the devil had finished all this tempting, he left him until an opportune time."
I Peter 5:8
"Be alert and of sober mind. Your enemy the devil prowls around like a roaring lion looking for someone to devour."
II Chronicles 16:9
"For the eyes of the LORD range throughout the earth to strengthen those whose hearts are fully committed to him. "