When at last we realize the great revelation of God's abundant generosity to create us, love us, and think of us we can follow Him with all of our might, worship Him with all of our being, and love others as He has loved us – with everything. No more limited meeting out to this one or that what they deserve, but a lavish outpouring of grace and mercy to all. When we encounter our creator and realize His heart towards us how changed we become. Those hindrances we used to be tied to seem to lose their grip, for we have encountered the answer to our longing hearts which is beyond our hopes, fears, and own imaginations of what we think will satisfy. We encounter the One who made all that is seen and unseen and we realize He thinks of us, we are on His mind and heart.
As we let Him in and release everything in our lives to Him we can become what He created us to be and the world can be changed. Not changed by our fruitless and striving efforts, but changed by His glorious light shining through us, the overflowing joy radiating from our hearts, and the acts we do unto others as unto Him. In Him we are inspired, we are creative, we are strengthened and made whole. Truly God is good, faithful, and the source which changes the course of our lives and our own dark paths. He, the Creator of the universe, wants us to walk higher with Him, to know Him in the land of the living, and spend eternity with Him.
Prayer: With All I am, oh God, we worship You. Leave nothing in my life untouched by Your hand, for when You have it – all is well. There is hope for life and purpose, but when I keep it held tightly with untrusting hands the potential is suffocated. Teach me of Your heart, Oh God, that I may live, and move, and have my being in Thee.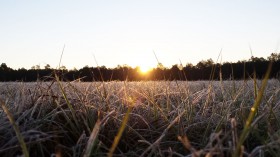 Press into Me, I will not disappoint. Draw near to Me, and I will draw near to you. Oh the vast richness of the knowledge of Christ, there is more than you can see or imagine of Me. Dwell on this, begin to wrap your mind around this for I delight to show you more.

     Continue to release those hindrances that so easily beset and watch what I will fill you with and replace those deep longings that haunt your heart. My blessings, My presence will fill you so full that you overflow onto all around you and here you will find there is limitless supply of outpouring.
"And he is not served by human hands, as if he needed anything. Rather, he himself gives everyone life and breath and everything else. From one man he made all the nations, that they should inhabit the whole earth; and he marked out their appointed times in history and the boundaries of their lands. God did this so that they would seek him and perhaps reach out for him and find him, though he is not far from any one of us. For in him we live and move and have our being. As some of your own poets have said, 'We are his offspring.'"  Acts 17:25-28