The song, "Leaning on the Everlasting Arms" has been on my heart for a few days. I used to sing it in church out of an old shape-note hymnal. I thought I knew the full meaning of these words back th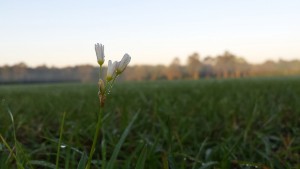 en, but the more I come to know the Lord the more I see there are deeper levels of trust and joy to experience. No matter what tune, key, instrument or voice we choose to sing the song below with, let us sing it with all of our hearts and resonate the sound of faith as we lay hold to the truth that the writer of this hymn grasped so many years ago. The path truly does grow brighter and brighter as we decrease and He increases within us.
What does we must decrease mean? John the Baptist revealed Christ as the Messiah and explained how his purpose was to proclaim the coming of the Lord. We can apply this principle to our own lives as we say, "Yes Lord, your will be done. Let your presence and influence on me increase and have your way in me, for I must decrease to my own self and ways." He must increase and we must decrease to every detail of our lives – not only in the big decisions but in how we spend our time, what we speak, what we meditate on in our hearts and mind, and even what we choose to submit to him and not worry. In losing ourselves in Him, we find our true purpose and passion for living on this earth. This is one of those great kingdom of God paradoxes – as we give more of ourselves to Him, we become more fulfilled.
In this age of wars and rumors of wars, natural disasters, and so much doom and gloom spoken by the media – let us take hold to a more excellent way to walk – leaning on the everlasting arms of God through Christ Jesus. Our Lord is bigger than we know and can handle any problem, heal any hurt, and make a way out of no way. May God make your way brighter and brighter with His presence, and may your mind and heart continue to learn of the surpassing knowledge of Christ.
     My arms are not too short to save, nor am I too weak to hold the world in My hands. Your hearts faint when you don't rely upon Me, when your heart trusts in the peace that circumstance or man gives, rather than the peace that passes all understanding that I give.

     When you run around trying to find comfort in the created, how can My comfort overtake you. Be still and know that I Am God. I will be a salve to cover every hurt – even to your core. I will make you new and whole and you will be astounded at the works I bring forth from your hands as you let Me have My way in you.

     Do not lose heart thinking you will never attain your goals, replace these with My goals for your life. Be satisfied right where we are and I will spur you on to walk into new responsibilities, tasks, authority. But let us take each moment together and learn to hear My voice and hearken unto it.

     I will tell you what to spend time on, what to put your hand to. In doing this you will not feel overwhelmed but you will rejoice that I walk with you in the daily things. Then in My timing you will look back and be amazed at how much you accomplished in Me.

     Your body will not be tired nor will you suffer the stress and strain common to man walking in his own strength. You will feel a rejuvenation within, for do I not renew you're youth as the eagle's for I will satisfy your mouth with good things. I strengthen your arms for their tasks. I Am desires to do this. Lean upon Me, walk with Me, and just see the good I will bring forth through your life. My love, never forget, I enjoy you.
 "The eternal God is your refuge, and underneath are the everlasting arms. He will drive out your enemies before you, saying, 'Destroy them!'"  Deuteronomy 33:27
"Who is this coming up from the wilderness leaning on her beloved?"  Song of Songs 8:5
"Then Jesus said to his disciples, 'Whoever wants to be my disciple must deny themselves and take up their cross and follow me. For whoever wants to save their life will lose it, but whoever loses their life for me will find it.'"  Matthew 16:24-25
"The bride belongs to the bridegroom. The friend who attends the bridegroom waits and listens for him, and is full of joy when he hears the bridegroom's voice. That joy is mine, and it is now complete.  He must become greater; I must become less. The one who comes from above is above all; the one who is from the earth belongs to the earth, and speaks as one from the earth. The one who comes from heaven is above all. He testifies to what he has seen and heard, but no one accepts his testimony. Whoever has accepted it has certified that God is truthful. For the one whom God has sent speaks the words of God, for God gives the Spirit without limit. The Father loves the Son and has placed everything in his hands. Whoever believes in the Son has eternal life, but whoever rejects the Son will not see life, for God's wrath remains on them."  John 3:29-36
Leaning on the Everlasting Arms
By: Elisha A. Hoffman – 1887
Verse 1
What a fellowship, what a joy divine, leaning on the everlasting arms;
What a blessedness, what a peace is mine, leaning on the everlasting arms.
Verse 2
Oh, how sweet to walk in this pilgrim way, leaning on the everlasting arms;
Oh, how bright the path grows from day to day, leaning on the everlasting arms.
Verse 3
What have I to dread, what have I to fear, leaning on the everlasting arms?
I have blessed peace with my Lord so near, leaning on the everlasting arms.
Chorus:
Leaning, leaning, safe and secure from all alarms;
Leaning, leaning, leaning on the everlasting arms.