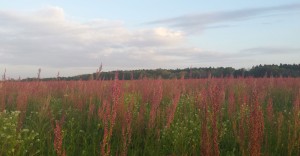 What if the most precious one to us were in danger, compromised, grasping for health, yet we stand there powerless to help? What if the deepest desires of our hearts remained unmet? We've done all we can and now what? Release it to the Master whose hands are skillful to bring about the outcome for this situation. We are not created to bear such sorrow and grief, for we were made for the Garden of Eden. Our bodies break down under stress and heavy loads of care. This is why Jesus said to give our burdens to Him and take on His yoke, which is easy and light. We are made for one lifetime, for God created us in His image to be eternal beings. When we finish our races here we can spend eternity with Him – learning more and more about Him not just for a season but beyond time. While we are still on this earth, let us release the results to God and trust him to do exceedingly abundantly above all we ask or think.
Gentle reader, I do not share this out of a place of accusation nor with unfeeling coldness do I proclaim, "Give all to God, let everything else go!" No, beloved, this revelation of releasing all to Him has come from the fires of refinement over many years when tears were my only food, when no word from man could comfort, when the soft breeze felt blowing over my skin was the only evidence that God was near, for I did not feel Him in the darkness at once, but He did come.
I felt Him when I stopped fighting Him and released with empty, feeble hands those most precious of loved ones and desires for specific circumstances and ways to open. I felt Him when I released the concern of receiving man's affirmations and positive opinions about the circumstances and focused only on God's opinion of what He desired to bring forth. Only here did I find a sweet peace and lightened heart that was indescribable.
This place of brokenness is the path to wholeness. God often moves in paradox, for He takes the foolish things of the world to confound the wise. He takes the weak things and vessels and girds them up in His strength and makes them mighty men and women of valor bringing forth what is needed in the world from unlikely vessels. When we can release all those things which are dear to us into the hands of a loving and tender Creator, then we can be free to rise out of the muck and mire of care and concern and stand on the high places with the Almighty.
It's not that we no longer care for these precious ones or that the desires of our hearts cease, rather it is that we trust God with all that concerns us knowing He will gently lead and guide us in the way we should walk. It is having a secure and rested heart on the eternal fact that no good thing does He withhold.
Two people can be walking on the same path be it vocation, calling, or relationship but they can have very different experiences. One person stumbles under the load of care, responds to conflict with bitterness, impatiently lashes out at others, and misses the divinely orchestrated interactions with those God brings into his/her life. The other person walks on the path laid out before him knowing God is directing  so responds with a heart of fresh trust and steadfast faith. This one does not stumble under a load of care, but skips along in joy and peace facing each situation and interaction as an opportunity to let God awe with the wisdom He bestows freely to all who ask. This one learns to behold the beauty of each day in God's glorious light. This one frets not for he trusts implicitly in Jesus Christ and does not fear what may come, but knows who holds each day. Let us move forward as this second person wearing a cloak of praise and taking on His righteousness, strength, and wisdom.
As we continue walking with the Lord, we learn to let go of all that is dear to us knowing that He is well able to handle our hearts, loved one's, and circumstances. The more we release to Him, the more of Himself He gives us. Let us be unmoved by circumstance, but pliable to our Master. Oh what God can do with a heart and life fully committed to Him. All is well, My love.
"

Come to me, all you who are weary and burdened, and I will give you rest.

  Take my yoke upon you and learn from me, for I am gentle and humble in heart, and you will find rest for your souls. 

For my yoke is easy and my burden is light."

  Matthew 11:29-30
"

By faith Enoch was taken from this life, so that he did not experience death: "He could not be found, because God had taken him away." For before he was taken, he was commended as one who pleased God.

 

And without faith it is impossible to please God, because anyone who comes to him must believe that he exists and that he rewards those who earnestly seek him.

"  Hebrews 11:5-6
"

I will exalt you,

Lord

,

for you lifted me out of the depths

and did not let my enemies gloat over me.

Lord

my God, I called to you for help,

 

and you healed me.

You,

Lord

, brought me up from the realm of the dead;

you spared me from going down to the pit.

Sing the praises of the

Lord

, you his faithful people;

praise his holy name.

For his anger lasts only a moment,

but his favor lasts a lifetime;

weeping may stay for the night,

but rejoicing comes in the morning.

When I felt secure, I said,

'

I will never be shaken.' 

Lord

, when you favored me,

 

you made my royal mountain stand firm;

but when you hid your face,

I was dismayed.

To you,

Lord

, I called;

to the Lord I cried for mercy: '

What is gained if I am silenced,

if I go down to the pit?

Will the dust praise you?

Will it proclaim your faithfulness?

Hear,

Lord

, and be merciful to me;

Lord

, be my help.'

You turned my wailing into dancing;

you removed my sackcloth and clothed me with joy,

that my heart may sing your praises and not be silent.

Lord

my God, I will praise you forever.

"  Psalm 30:1-12
"Then Jesus said to his disciples: '

Therefore I tell you, do not worry about your life, what you will eat; or about your body, what you will wear.

 

For life is more than food, and the body more than clothes.

 

Consider the ravens: They do not sow or reap, they have no storeroom or barn; yet God feeds them. And how much more valuable you are than birds!

Who of you by worrying can add a single hour to your life?

 

Since you cannot do this very little thing, why do you worry about the rest?

Consider how the wild flowers grow. They do not labor or spin. Yet I tell you, not even Solomon in all his splendor was dressed like one of these.

 

If that is how God clothes the grass of the field, which is here today, and tomorrow is thrown into the fire, how much more will he clothe you—you of little faith!

 

And do not set your heart on what you will eat or drink; do not worry about it.

 

For the pagan world runs after all such things, and your Father knows that you need them.

But seek his kingdom, and these things will be given to you as well.'

"  Luke 12:22-31