When we are in prolonged seasons of sorrow, we can take comfort in knowing that the Lord hears our cries and even our whispers. As we look around at the beauty of creation and be still before the Lord we are compelled to seek for more in God for the truth of all creation proclaims, "There is more."  Lord, help us see the possibilities of what you can do with a heart trusting fully in Thee.
What are we crying out to God to deliver us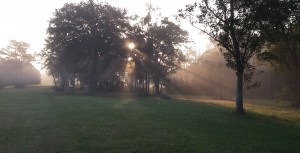 from? Is it accusations or persecutions by our enemies? Is it healing of the mind or body or the saving of the soul from an unredeemed and sinful heart? Jesus obedience in being beaten and crucified in our place gives us freedom over any enemy.
Below is a passage from John G. Lake, who was a faith healer and missionary in the early 1900s. His writings exemplify a life totally trusting in God. As I read his words my spirit catches fire and proclaims, "Yes, this is how I want to walk with Thee, Oh God. In Your power and authority so that the nations can see the beauty and splendor of your holiness and goodness."
"Everything there is in the redemption of Jesus Christ is available for man, when man will present his claim in faith and take it. There is no question in the mind of God concerning the salvation of a sinner. No more is there concerning the healing of a sick one. It is in the atonement of Jesus Christ. His atonement was unto the uttermost, to the last need of man. The responsibility rests purely, solely, and entirely on man. Jesus put it there. Jesus said, 'When ye pray, believe that ye receive them, and ye shall have them.' And you shall have. No question about it in the words of Jesus. If ever a man made his words emphatic, it was Jesus. If ever He spoke with emphasis on any question, it was on the subject of God's will, and the result of faith in prayer."
"Indeed, He did not even speak them in ordinary words, but in the custom of the East. He said, 'Verily, verily.' Amen. The same as if I would stand in an American court and say, 'I swear to tell the truth, the whole truth, and nothing but the truth, so help me God.' So the Easterner raised his hand and said, 'Amen, amen,' or 'Verily, verily' – with the solemnity of an oath, I say unto you. So Jesus said, 'When ye pray, believe that ye receive them, and ye shall have them.' James in expounding the subject says concerning those that doubt, 'Let not that man think that he shall receive any thing of the Lord.' Why? Well, he says a man that doubteth 'is like a wave of the sea driven with the wind and tossed.' There is no continuity in his prayer. There is no continuity in his faith. There is no continuity in his character. There is no fixed concentration on God for the thing that he wants. He is like the waves of the sea, scattered and shattered, driven here and there by the wind because there is an if in it. 'Let not that man think that he shall receive anything of the Lord.'"
"The redemption of Christ was an uttermost redemption, to the last need of the human heart—for body, soul, and spirit. He is a Christ and Savior, even unto the uttermost. Blessed be His Name! Who shall dare to raise a limit to the power of God! Who shall dare to raise a limit to the accomplishment of faith through Jesus Christ? I am glad that the days are passing quickly when men no longer desire to raise barriers before the souls of men. The tendency is to take down the barriers and let all the faith of your heart go out to God, for every man and every condition of life—to let the love of God flow out of your soul to every hungry soul."
John G. Lake as cited by Harold Chadwick (2006).  How to Be Filled with Spiritual Power, pp. 67-68, Retrieved from http://www.beaconchurchbridport.co.uk
"Be merciful to me, Lord, for I am in distress; my eyes grow weak with sorrow, my soul and body with grief. My life is consumed by anguish and my years by groaning; my strength fails because of my affliction, and my bones grow weak. Because of all my enemies, I am the utter contempt of my neighbors and an object of dread to my closest friends – those who see me on the street flee from me. I am forgotten as though I were dead; I have become like broken pottery. For I hear many whispering, 'Terror on every side!' They conspire against me and plot to take my life. But I trust in you, Lord; I say, 'You are my God.' My times are in your hands; deliver me from the hands of my enemies, from those who pursue me. Let your face shine on your servant; save me in your unfailing love. Let me not be put to shame, Lord, for I have cried out to you; but let the wicked be put to shame and be silent in the realm of the dead. Let their lying lips be silenced, for with pride and contempt they speak arrogantly against the righteous. How abundant are the good things that you have stored up for those who fear you, that you bestow in the sight of all, on those who take refuge in you. In the shelter of your presence you hide them from all human intrigues; you keep them safe in your dwelling from accusing tongues. Praise be to the Lord, for he showed me the wonders of his love when I was in a city under siege. In my alarm I said, 'I am cut off from your sight!' Yet you heard my cry for mercy when I called to you for help. Love the Lord, all his faithful people! The Lord preserves those who are true to him, but the proud he pays back in full. Be strong and take heart, all you who hope in the Lord."  Psalm 31:9-24
"If any of you lacks wisdom, you should ask God, who gives generously to all without finding fault, and it will be given to you.  But when you ask, you must believe and not doubt, because the one who doubts is like a wave of the sea, blown and tossed by the wind.  That person should not expect to receive anything from the Lord. Such a person is double-minded and unstable in all they do."  James 1:5-8