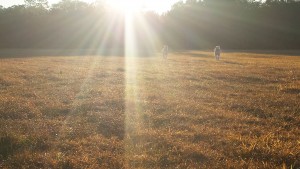 Have you ever felt uninspired by life? At times, it may seem as though we have come to an impasse, what else could we be called to do, what else could God possibly use us for, have we not gone past our usefulness for the King? Does each day seem like an endless succession of the same chores, duties, with no passion for living on the edge of possibility of what God could do in our lives? Have we lost sight of our calling, have we lost sight that all things are possible through Christ?
Oh God, reignite the flame within each of us to burn brighter and brighter until the full light of day, until we stand before You in all of your glory. Let our days be filled with purpose as we bring light to this dark world. Help us to remember that we are in the world, not of it. What discourages man, excites us to see what God will do. What strikes fear in others leaves us feeling exhilarated for we know the God of the circumstance.
Draw our hearts to You, Oh God. Remove distractions that hinder and ensnare, teach us to walk in Your paths and only  seek to live our lives fully  for Thee. Remove the blanket of discouragement and covering of despair that surrounds so many hearts and bring us to the higher and deeper places in You. As we come to know you more, as we become more aware of Your presence, how light our hearts and joyful our steps. Let your call to the higher ways and specific purposes for our hands to bring forth drown out the calls of the world, overtake the sound of silence and uselessness. In You there is light, health, peace.
     These deep places in your heart, come to Me and offer up your groans. These places beyond your understanding. These have to be laid open before Me and receive My salve so you can come deeper into Me. Hold nothing back, bottle nothing up, for I see all of you. I see each disappointment, each crushing blow and I am healer, restorer. What evil has caused I will overcome with blessing, but I will not leave you undone, I will fill up those deep places and leave them untended.

     Lay before Me your heart and let these groans come forth to Me, for surely I hear them. I bottle each tear. My compassion never fails. I do not desire evil be done unto you, but I overcome evil with good. Though now you have had to suffer for a little while, I tell you we have eternity together. I am teaching you to walk on a higher plane in this life and then when you cross over from time to eternity it will only be the next step – not an unfamiliar transition.

     Pour out your heart to Me, even those things you do not understand. Trust My heart for you, for it is tender and merciful. Let My love and mercy overtake you where yours falls short and is unable to forgive or reach out to others who have harmed you. No weapon forged against you shall prosper, every tongue that rises against you shall cease.


     Do not draw judgments from a temporary situation and think this is all there is, for I Am the God of both time and eternity. Skip along with Me, my love, with a light heart. Let Me bear your burdens and take upon yourself My light yoke. Let go of all the doubts, hurts, disappointments and let Me take care of these. Let not your heart fret that justice will be done, just release all to Me.

     Operate in My purposes and callings in your life. Focus on My love and all will grow brighter. Receive all I offer you in love, forgiveness, healing, authority. My richness is unending.  
"I have raised you up for this very purpose, that I might show you my power and that my name might be proclaimed in all the earth."  Exodus 9:16
"The plans of the Lord stand firm forever, the purposes of his heart through all generations."  Psalm 33:11
"Many are the plans in a person's heart, but it is the Lord's purpose that prevails."  Proverbs 19:21
"Remember the former things, those of long ago; I am God, and there is no other; I am God, and there is none like me. I make known the end from the beginning, from ancient times, what is still to come. I say, 'My purpose will stand, and I will do all that I please.' From the east I summon a bird of prey; from a far-off land, a man to fulfill my purpose. What I have said, that I will bring about; what I have planned, that I will do."  Isaiah 46:9-11
"To me this is like the days of Noah, when I swore that the waters of Noah would never again cover the earth. So now I have sworn not to be angry with you, never to rebuke you again. Though the mountains be shaken and the hills be removed, yet my unfailing love for you will not be shaken nor my covenant of peace be removed, says the Lord, who has compassion on you. Afflicted city, lashed by storms and not comforted, I will rebuild you with stones of turquoise, your foundations with lapis lazuli. I will make your battlements of rubies, your gates of sparkling jewels, and all your walls of precious stones. All your children will be taught by the Lord, and great will be their peace. In righteousness you will be established: tyranny will be far from you; you will have nothing to fear. Terror will be far removed; it will not come near you. If anyone does attack you, it will not be my doing; whoever attacks you will surrender to you. See, it is I who created the blacksmith who fans the coals into flame and forges a weapon fit for its work. And it is I who have created the destroyer to wreak havoc;  no weapon forged against you will prevail, and you will refute every tongue that accuses you. This is the heritage of the servants of the Lord,  and this is their vindication from me, declares the Lord."  Isaiah 54:9-17
"From one man he made all the nations, that they should inhabit the whole earth; and he marked out their appointed times in history and the boundaries of their lands. God did this so that they would seek him and perhaps reach out for him and find him, though he is not far from any one of us. 'For in him we live and move and have our being.' As some of your own poets have said, 'We are his offspring.'"  Acts 217:26-28
"And he who searches our hearts knows the mind of the Spirit, because the Spirit intercedes for God's people in accordance with the will of God. And we know that in all things God works for the good of those who love him, who have been called according to his purpose."  Romans 8:27-28