As we turn our faces to seek God wholeheartedly, we will be surprised at the outcome. He is very near to us, He desires to bring us deeper into His presence, surround us with songs of deliverance, and bless us with the works of His hands. The prodigal son was drawn away to spend himself on wordly enticements, but when he came to the end of himself he realized there was only one place he was created to be and could find peace – at home with his father.
The prodigal son reasoned he was only worth working for his father as a hired servant because of his folly, so he planned to journey home and deliver a rehearsed speech demonstrating his repentance. However, when he returned home he met an outcome he did not conceive as possible. His father was waiting to welcome him with open arms. He did not have to work in the fields to pay for his sins, for the father wiped them away. The father lavished so many unexpected blessings on the son including his own presence at a feast and so many gifts from his hand. He did not withhold from the repentant child as a punishment, but quickly ushered him into his rightful standing as his son.
Jesus shared this story as written in Luke 15. He was revealing the Father's heart for those who have preoccupied their minds and hearts and efforts in other endeavors, rather than committing themselves fully to Him. With such a divine love drawing us and knowing what the outcome will be, how can we let one more moment pass before we boldly approach the throne of grace that we may obtain mercy and be set in our rightful place in Jesus.
     What have you need of? My love, where do you need Me to bless you? Where have you need of My overflowing? I ask you, for I trust you, I know your heart is completely Mine. You have sought Me. It takes not much effort or a dry and hard journey across the desert to find Me – for I Am very near – seek Me is merely a turning of your head from worldly and internal distractions to behold Me.

     You did not expect Me to come to you and ask you what you had need of for you thought it would be months or years of trudging in a dry and barren place before you fully behold My beauty and lived in My blessings. Did the father make the prodigal son wait to be blessed? Did he tell him to go in the fields and work before he gave him a feast? No, it was immediately upon his return that he lavished him with blessings and his love. So too, I lavish on those who turn wholeheartedly to Me with abundance of My presence and blessings.

     I do not desire to hold back what I have ready to give. Any withholding is so not to crush you or give you a blessing too heavy to carry. Delight in Me, seek Me, and all these things – these concerns of your mind and life – will be added unto you. Dwell in My righteousness, take on My yoke, become the new creation I've made you to be. Set your mind continually upon Me and even to your own surprise you will discover changes – deep within you, evidenced in your life, coming to you and going from you. Rise, for I call you blessed.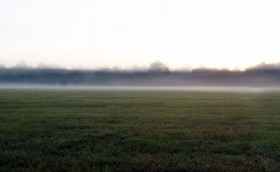 Jesus told the story of the prodigal son. "There was a man who had two sons. The younger one said to his father, 'Father, give me my share of the estate.' So he divided his property between them. Not long after that, the younger son got together all he had, set off for a distant country and there squandered his wealth in wild living. After he had spent everything, there was a severe famine in that whole country, and he began to be in need. So he went and hired himself out to a citizen of that country, who sent him to his fields to feed pigs. He longed to fill his stomach with the pods that the pigs were eating, but no one gave him anything. When he came to his senses, he said, 'How many of my father's hired servants have food to spare, and here I am starving to death!  I will set out and go back to my father and say to him: Father, I have sinned against heaven and against you. I am no longer worthy to be called your son; make me like one of your hired servants.' So he got up and went to his father. But while he was still a long way off, his father saw him and was filled with compassion for him; he ran to his son, threw his arms around him and kissed him. The son said to him, 'Father, I have sinned against heaven and against you. I am no longer worthy to be called your son.' But the father said to his servants, 'Quick! Bring the best robe and put it on him. Put a ring on his finger and sandals on his feet. Bring the fattened calf and kill it. Let's have a feast and celebrate. For this son of mine was dead and is alive again; he was lost and is found.' So they began to celebrate."  Luke 15:11-24
 "The God who made the world and everything in it is the Lord of heaven and earth and does not live in temples built by human hands. And he is not served by human hands, as if he needed anything. Rather, he himself gives everyone life and breath and everything else. From one man he made all the nations, that they should inhabit the whole earth; and he marked out their appointed times in history and the boundaries of their lands. God did this so that they would seek him and perhaps reach out for him and find him, though he is not far from any one of us."  Acts 17:24-27
"

For we have not an high priest which cannot be touched with the feeling of our infirmities; but was in all points tempted like as we are, yet without sin.

Let us therefore come boldly unto the throne of grace, that we may obtain mercy, and find grace to help in time of need.

"  Hebrews 4:15-16