God sent the Prophet Samuel to anoint one of Jesse's sons as the new king over Israel. When Samuel arrived in Bethlehem, he beheld Eliab, Jesse's eldest, and was convinced this must be the guy God would have him anoint as the new king, but the Lord told Samuel, "Do not consider his appearance or his height, for I have rejected him. The Lord does not look at the things people look at. People look at the outward appearance, but the Lord looks at the heart" (I Samuel 16:7). How important a principle for us to learn – never look at ourselves or others and judge what God desires to do in each. Often He uses the most unlikely vessels in the greatest adventures to bring forth His purposes.
Jesse had seven of his sons present themselves before Samuel, but the prophet knew none of these were chosen by God for this important role. Samuel asked, "Are these all the sons you have?" Jesse revealed that his only other son was out tending sheep, so he sent for his youngest son. When David came in and appeared before Samuel the Lord said, "Rise and anoint him; this is the one." So Samuel did as the Lord instructed and anointed David in front of all of his brothers. From this day on, the Spirit of the Lord came powerfully upon David, for He was chosen by God to fulfill His purposes (I Samuel 16:13). God chose David for a position of honor as king over Israel; however, God's promise for this position did not come to fulfillment until many years later and after his chosen vessel went through much struggle, rejection, misunderstanding, and years of refinement.
Later, the Philistines came to incite a war against Israel. For 40 days, Goliath taunted Israel and challenged Israel to send out one man from among their army for a one-on-one fight between him and their bravest warrior to decide the fate of the war. No one stepped up to the challenge even with the promise of riches, a royal marriage with King Saul's daughter, and an exemption from ever paying taxes again. While this was going on, Jesse brought David up from his sheep tending duties and sent him to the battle lines to bring food to his brothers and bring back an update.
When David arrived, he heard the Philistine giant talking trash against Israel and God. David inquired of the men to find out what was going on and they told him. His eldest brother, Eliab, saw David talking with the soldiers and became angry and reviled him. "When Eliab, David's oldest brother, heard him speaking with the men, he burned with anger at him and asked, 'Why have you come down here? And with whom did you leave those few sheep in the wilderness? I know how conceited you are and how wicked your heart is; you came down only to watch the battle'" (I Samuel 17:28). Eliab not only accused David of having impure motives, but he also demeaned his current role – even after he and his other brothers previously witnessed the Prophet Samuel anoint David for God's mighty purposes and confirm God's call upon his life.
We can interpret the frustration David must have felt by his reply to Eliab, "What have I done now? Is there not a cause?" His reply indicates that he had been berated before, was frustrated, and did not understand why his brother focused on criticizing him rather than being unified in their fight against the enemy. David was angry that this giant was defying the armies of the living God, his focus was on God's namesake, and he was demonstrating a righteous indignation over these insults from Goliath. David turned the tide of the war that day, for he did not listen to those who only saw him as what he was, who minimized his current position/role, and who accused him and questioned his intentions.
David chose to believe in God's word over man's opinions of his actions and motives. David could have reasoned, "Yeah, you're probably right, God must have chosen the wrong brother – I'm just little David. I'll go on home now. Even though God said He had a purpose for me, I don't know why I thought I could be something great for Him." The Lord looks at our hearts and sees what He can do in us and through us. Man tends to hold our weakness against us and limit our future potential by the failures of the past, for man does not see the possibilities that God sees in us. When God calls us, those who are closest to us might not see the change God is bringing forth in us.This can be a very emotional battle in our hearts. Those who are closest to us can inflict the deepest wounds. If others do not see God's promises for us as possible or if they are struggling with jealousy over God's call in us, we have to just go on with God, believe Him, and do what He says we can do through Him. Let God change the hearts of the scoffers in His own good time.
David had to go through many more years of battles, misunderstandings, rejections, and waiting until he was crowned king over Israel. Even during this long and hard season of waiting for God's promises to be fulfilled, there was an intimacy between David and God we see evidenced throughout the beautiful and timeless song/hymns in the Psalms. Even though David wasn't perfect and made some poor choices over his life, God still called David "a man after His own heart" (Acts 13:22). Let us not lose heart in the waiting for the fulfillment of God's promises. If He has given us vision of His purpose or even if we are still seeking Him for His will for our lives, do not give up and do not lose heart at resistance. God is faithful and delights in those whose hearts are fully committed to Him. He will strengthen and make a way for those He has called.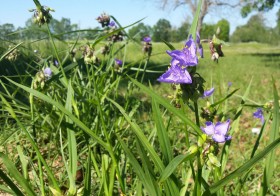 Do not faint at the time it takes for Me to fulfill My purposes for you. Do not lose heart at the insults and railings of others – only you need believe Me. My calling will always align with My word. Be gentle with these but you come on with Me. What I'm bringing forth in My vessels is not made from man's hands or understanding, it goes beyond these. All that I said in My Word, I plan to do. All that I said is possible for those who bear My name, I desire to bring forth. Fear not the giftings I'm cultivating in you, for these will give life to others and display My glory. These will even delight your own heart.

     Step even out of your own limitations – let your heart be light and say with all confidence, "All things are possible through Christ." Let Me strengthen you to slay the Goliaths, part the seas, overcome the vast armies, overthrow the powers that set themselves up against you even as Pharaoh did Israel. Let your heart stay tuned to Me and let your praise be sweet and come forth from a heart of complete trust and delight. Let Me make the way for you – only be still and move or stand as I lead.

     Let not the time it takes for me to position you where I have need of you be a cause for concern, for cannot I extend even your days to fulfill My purposes. Cannot I even strengthen your arms for My tasks. Cannot I even broaden your capacity for learning to understand the processes and principles to bring forth as I have need. Ask Me for wisdom, for I give it freely. I am your strength, your way, your very great reward. Enjoy the journey with Me.
"For the eyes of the Lord range throughout the earth to strengthen those whose hearts are fully committed to him."  II Chronicles 16:9a
"Consider it pure joy, my brothers and sisters, whenever you face trials of many kinds,

because you know that the testing of your faith produces perseverance.

 

Let perseverance finish its work so that you may be mature and complete, not lacking anything.

 

If any of you lacks wisdom, you should ask God, who gives generously to all without finding fault, and it will be given to you.

 

But when you ask, you must believe and not doubt, because the one who doubts is like a wave of the sea, blown and tossed by the wind.

 

That person should not expect to receive anything from the Lord."  James 1:2-7
"Answer me,

Lord

, out of the goodness of your love;

in your great mercy turn to me.

Do not hide your face from your servant;

 

answer me quickly, for I am in trouble.

Come near and rescue me;

deliver me because of my foes.

You know how I am scorned, disgraced and shamed;

all my enemies are before you.

Scorn has broken my heart

and has left me helpless;

I looked for sympathy, but there was none,

for comforters, but I found none. …

But as for me, afflicted and in pain – 

may your salvation, God, protect me.

I will praise God's name in song

and glorify him with thanksgiving.

"  Psalm 6:16-20, 29-30