What is your walk for? What does your life mean? Have you any purpose? Beloved, keep your focus on Me and My calling for you. I have giftings I desire to pour through each of My beloveds upon the world. I have led you down the right path, I bring forth good out of your situation. Let not panic or regret be found in you, for I redeem the time to give you strength and vigor to accomplish all I have for you to do. Just take each step with Me, each day, each moment and see what I can accomplish through you.

     Let not the feverish thoughts take up residence in your heart and mind that you have missed the way or that you should have done this or that, My love, I know you, I knew which path you would take, and have I not orchestrated your life to expand your days to bring about My will in your life. Practice resting in Me, for in this is your peace found. Make your purpose for each day to find My heart for those around you and pour out. Focus outward, not inward. I pour out to My beloveds and I desire My vessels to be useful in My hands to let Me pour.

     Dissatisfaction with life comes when your focus turns toward those around you and you compare yourself to what your life could be. Let your focus rest securely and firmly on what I would have you do, for here is everlasting fulfillment found. Do not think this is all, for I can renew your youth as the eagles and ignite a creativity within you to bring forth that which you have not imagined. Just let Me lead you. Focus your heart before Me and set it firmly on pleasing Me, not yourself or man, and from this will flow rivers of living water that will quench your thirst and satisfy your hunger.

     Know that I love you, I delight in you. Let us dance together and let the new song of praise be uttered from your lips, that sound which can only come from a sincere intimacy with Me. Sedate no longer, but live to the hilt every moment in Me in pure joy and peace. You were created to know Me, to display My splendor, to shed My light in the darkness by reflecting My glory poured into you and overflowing out of you. All else is vanity, a chasing after the wind. All else leaves man dissatisfied, exhausted, and spent for no good cause. Beloved, the meaning of life, the purpose of existence is to know Me.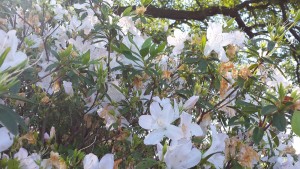 "

Then God said, 'Let us make mankind in our image, in our likeness, so that they may rule over the fish in the sea and the birds in the sky, over the livestock and all the wild animals, and over all the creatures that move along the ground.'

So God created mankind in his own image,

in the image of God he created them;

male and female he created them.

God blessed them and said to them, 'Be fruitful and increase in number; fill the earth and subdue it. Rule over the fish in the sea and the birds in the sky and over every living creature that moves on the ground.'"

  Genesis 1:26-28
"'

I have told you these things, so that in me you may have peace. In this world you will have trouble. But take heart! I have overcome the world.'

After Jesus said this, he looked toward heaven and prayed: '

Father, the hour has come. Glorify your Son, that your Son may glorify you.

 

For you granted him authority over all people that he might give eternal life to all those you have given him.

Now this is eternal life: that they know you, the only true God, and Jesus Christ, whom you have sent.'"  John 16:33-17:3
Jesus prayed: "My prayer is not for them alone. I pray also for those who will believe in me through their message, that all of them may be one, Father, just as you are in me and I am in you. May they also be in us so that the world may believe that you have sent me. I have given them the glory that you gave me, that they may be one as we are one – I in them and you in me – so that they may be brought to complete unity. Then the world will know that you sent me and have loved them even as you have loved me. Father

, I want those you have given me to be with me where I am, and to see my glory, the glory you have given me because you loved me before the creation of the world.

Righteous Father, though the world does not know you, I know you, and they know that you have sent me.

 

I have made you known to them, and will continue to make you known in order that the love you have for me may be in them and that I myself may be in them." 

John 17:20-26