The unctions of the Holy Spirit burn in our hearts inviting us to experience more of Him in this life. What if we find ourselves in the same circumstance for a prolonged season, yet our situation remains visibly unchanged? When we are seeking God and believing He has called us to more, we may grow weary from the wait and the time it takes for Him to make us ready and useful vessels. When we are left to stand in light of no changes we may begin to sedate ourselves and zone out from the spiritual fight to find comfort in uncomfortable places. When dwelling in the heat of the refining fires, we must learn that our only comfort is found in Him.
What do we do when we see no evidence of change in our season as we wait for God? It is here we might try to seek comfort in temporal pleasures to distract us until we are ready to enter the promised land. This may work out for us for a time, but what happens when God moves in our hearts and makes us restless even in those things we once found comfort in? Our whole world may seem to be upside down, for we don't know what to do with ourselves. Our little habits and systems we've put in place are overthrown. What used to bring such satisfaction, we take no pleasure in now. Be encouraged, lift up your head and rejoice, for your redemption draweth nigh!
When we begin to experience that restlessness that we can't put our finger on, listen carefully, for God may be making the final preparations to move us into a new season. Into that which we have tarried and suffered the refining fires, learned the hard lessons, and been humbled on numerous occasions to rid us of our pride and other fleshly tendencies. When we feel most unworthy and know that no good resides in us but that which is of Jesus in us, then we are more ready than when we stand in our own confidence of the flesh. This is a kingdom principle that is contrary to the world's viewpoint. The world says, "Stand strong and believe in yourself, be confident in your own strength and determination and reach your own goals." God says, "So do not fear, for I am with you; do not be dismayed, for I am your God. I will strengthen you and help you; I will uphold you with my righteous right hand" (Isaiah 41:10).
We can come to God many times and ask for deliverance from a thing or to make a way for us. Sometimes He will do so immediately, but other times there is a season of tarrying. Let us wait for God to open His way before us and make those changes within us that we desperately need. We may be waiting for a healing to come forth, a relationship to change, a job that utilizes our gifts and talents, spiritual maturity, or other parting of the sea that only God can make happen. Even if it is a circumstance we could try to get out of or change in our own strength, don't! Here we must learn a most valuable lesson that we can do nothing in ourselves, but it is He who works in us to will and do according to His good pleasure. Ours is to be at ease, not panic, or think we must do this or that thing apart from God's leading. Let us see if it is  what the Lord is moving us to do. Let us allow Him to perfect us in His timing and way, for He is the author and finisher of our faith. Wait for God, for His way always bring life and peace. If we don't wait upon the Lord, we will only be left with regret.
What is our goal? What has God put in us to accomplish? For those vessels who offer themselves completely to God, be not surprised that He will demand every area of your lives – wills, desires, recreational choices, endeavors, emotions, speech, thoughts, everything. This demand is not from a heavy taskmaster, but of a gentle Shepherd leading us to green pastures and letting us drink beside quiet waters. He requires that we give all to Him, even those seeming desires that we could control or make happen in ourselves – weight loss, a career or degree, ministry work, or other pursuit. When we try to accomplish some goal or change our circumstance in our own strength it feels forced and burdensome. How many of these endeavors become obsessions, areas of failure, or avenues for pride to develop. They can become so heavy to bear when not conducted through God's grace, timing, and with His power at work within us. When we commit our ways to the Lord He give us not only strength but a deep and abiding joy and peace in the means and ends. We can even feel His pleasure as we effort in His strength. What used to be hard for us, when done in God's strength feels effortless.
God cares for every detail of our lives and as we offer all to Him, He will work in us to bring forth His purposes in His timing and way, for He is faithful. Let us wait through the refinement process, trust Him to make us into what is good and pleasing and useful, and follow Him as He leads us into His higher ways.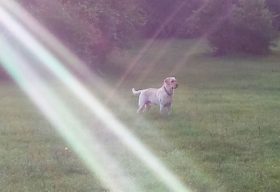 "For it is God who works in you to will and to act in order to fulfill his good purpose."  Philippians 2:13
"

But do not forget this one thing, dear friends: With the Lord a day is like a thousand years, and a thousand years are like a day.

 

The Lord is not slow in keeping his promise, as some understand slowness. Instead he is patient with you, not wanting anyone to perish, but everyone to come to repentance.

"  II Peter 3:8-9
"Trust in the Lord and do good; dwell in the land and enjoy safe pasture. Take delight in the Lord, and he will give you the desires of your heart. Commit your way to the Lord; trust in him and he will do this: He will make your righteous reward shine like the dawn, your vindication like the noonday sun. Be still before the Lord    and wait patiently for him; do not fret when people succeed in their ways, when they carry out their wicked schemes. Refrain from anger and turn from wrath; do not fret—it leads only to evil. For those who are evil will be destroyed, but those who hope in the Lord will inherit the land."  Psalm 37:3-9
"All a person's ways seem pure to them, but motives are weighed by the Lord. Commit to the Lord whatever you do, and he will establish your plans. The Lord works out everything to its proper end – even the wicked for a day of disaster. The Lord detests all the proud of heart. Be sure of this: They will not go unpunished. Through love and faithfulness sin is atoned for; through the fear of the Lord evil is avoided. When the Lord takes pleasure in anyone's way, he causes their enemies to make peace with them."  Proverbs 16:2-7